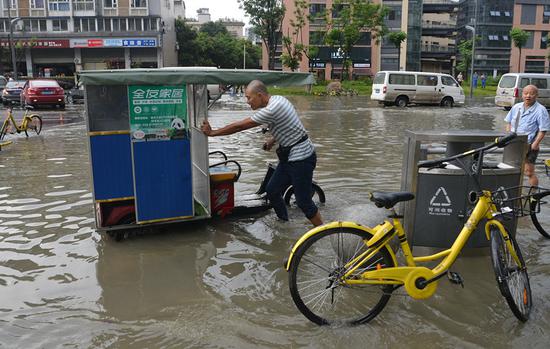 A man pushes his vehicle in a flooded street in Chengdu, Sichuan Province, on Thursday. (PHOTO/CHINA NEWS SERVICE)
More severe weather expected to hit through weekend; precautions advised
Continuous heavy rainfall swept most parts of China this week, affecting thousands of people and causing heavy economic losses, according to the Ministry of Water Resources.
From Wednesday to Thursday, heavy rain hit Anhui, Jiangsu, Sichuan, Shandong and Jilin provinces. Caolaoji, Anhui, and Dafengzha, Jiangsu, were the most heavily hit, the State Flood Control and Drought Relief Headquarters said.
According to the National Meteorological Center, heavy rainfall will hit areas including Hubei, Sichuan and Jiangsu provinces from Thursday to Sunday, and some areas will see thunderstorms.
On Monday and Tuesday this week, heavy rain hit six provincial areas. Flooding occurred in 31 rivers in Yunnan, Sichuan, Gansu, Shaanxi and Shandong provinces and the Guangxi Zhuang autonomous region, according to a statement released by the ministry on Wednesday.
As of noon on Wednesday, storms had struck 48 cities and districts in Sichuan and Shandong, affecting 254,300 people, damaging 8,360 hectares of crops and 46 houses and causing estimated economic losses of 733 million yuan ($111 million). No deaths or missing people were reported.
The ministry and the State Flood Control and Drought Relief Headquarters have taken measures to closely monitor and prepare for rainfall.
Shandong has been most heavily affected by the rainstorms in northern China. Flooding caused by heavy downpours since Monday in the province affected about 91,000 people in six cities, according to local civil affairs authorities.
As of 2 pm on Tuesday, rain also damaged 6,800 hectares of crops and more than 500 houses, causing estimated economic losses of 193 million yuan.
In Sichuan, rainstorms have battered 15 cities and prefectures since Saturday, forcing the relocation of more than 8,800 people. Seventeen trains had been delayed or canceled in the province as of Tuesday noon, due to heavy rain, local authorities said.
Railway authorities closed a section of the Baoji-Chengdu Railway, a key line linking Baoji, Shaanxi, with Chengdu, Sichuan, as rising river levels threatened passenger safety, according to China Railway Chengdu Group.
Several railway stations in Sichuan are offering ticket exchanges and refunds.
On Monday, the National Meteorological Center issued a yellow alert for rainstorms, as heavy precipitation was expected to sweep most parts of the country.
Forecasters predicted that the rain would hit parts of Shandong, Henan, Shanxi, Gansu, Sichuan, Guangdong and Heilongjiang provinces, with some of those areas expecting thunderstorms, according to the center.
The center warned local authorities to reduce outdoor activities and take precautions against flooding, flash floods and landslides.
China has a four-tier color-coded weather warning system, with red signifying most severe, followed by orange, yellow and blue.