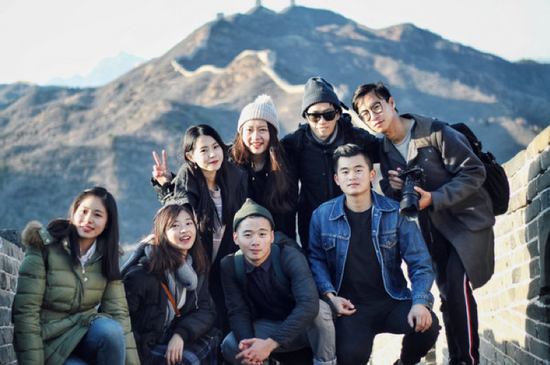 Students from Taiwan, Hong Kong and Macao from Renmin University of China take a photo at the Great Wall in Beijing during a cultural experience event. (Photo provided to China Daily)
A recent survey found that nearly 49 percent of people in Taiwan have a favorable opinion toward the mainland, while about 44 percent have a negative opinion.
This is the first time favorable opinions have surpassed negative ones, according to a poll released by the Taiwan Public Opinion Foundation on Sunday.
The poll results show 8 percent of the respondents felt "very good" toward the mainland; 40.8 percent felt "good;" 23.9 percent felt "not good", 20 percent felt "very bad", 2.5 percent "don't feel anything special" and 4.9 percent "don't know".
You Ying-lung, chairman of the foundation, considered the result a "historic change".
"It's extraordinary," he said, adding it is noteworthy that a majority of young adults or the educated population holds a favorable view toward the mainland.
The survey found that for people in Taiwan between the ages of 25 and 54, more than half thought of the mainland in a positive way. For Taiwan residents with university education or above, more than 50 percent also had favorable views.
Compared to last year, the overall favorable attitude increased by 4.4 percentage points, while aversions dropped by 3.5 percentage points, You said.
All of these affect their attitudes toward the mainland, she said.