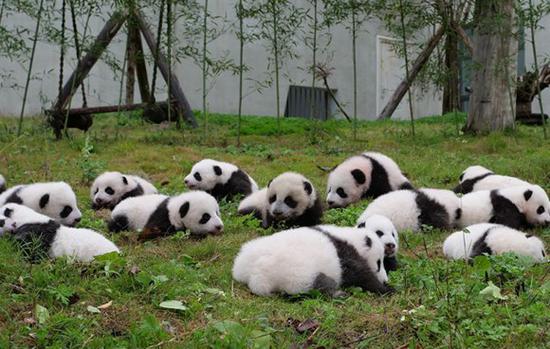 Panda cubs make their first public appearance at the Shenshuping Panda Base of the China Conservation and Research Center for the Giant Panda (CCRCGP) in Southwest China's Sichuan Province, Oct. 13, 2017. (Photo/Globaltimes.cn)
A key, national-level laboratory was set up on Tuesday in China's Giant Panda National Park to enhance research on the protection of the area's rare animals.
It's the first national scale lab focused on protecting giant pandas along with 144 other species, like golden snub-nosed monkeys and snow leopards.
"We are going to find out why these species are on the edge of extinction and how to save them," Zhang Hemin, deputy head of the lab, told CCTV.
"We have drafted a three-year plan to study some key problems, including how they breed, the diseases they're catching, the possibility of importing other species and many more," he added.
National park
The lab is located in the Giant Panda National Park, one of only 10 national parks in China.
The park is twice as large as the Yosemite National Park in the US and triple the size of Yellowstone, according to previous reports from Xinhua.
It covers 27,000 square kilometers across China's Sichuan, Shaanxi and Gansu provinces.
The main function of the park is to build passages between several individual habitats of pandas, enabling different groups of pandas to breed together.
Cross-group breeding is a way to give birth to stronger pandas, with the hope of growing the population.
The national park is experienced in protecting pandas, and the lab will try to apply the techniques to other rare species.
Open to the world
China is obviously not the only country that's interested in the lovely animal. That's why the lab is open to researchers from all over the world.
"We are cooperating with many universities, domestic and foreign, to study giant pandas and all other life forms living around them," said Zhang Zhizhong, head of the lab.
Experts from the Netherlands said they want to focus on two aims – one is conservation education, and the other is genetics analysis. "I think this (the national park) is very important, because it enables good conservation, not only for the giant panda, but also … the other inhabitants of this lovely eco-system," said Jose Kok, zoological director of Netherlands Ouwehand Zoo.