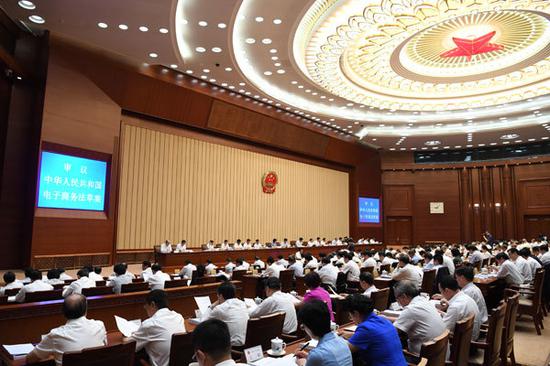 The third session of the 13th National People's Congress Standing Committee kicks off on June 19, 2018, in Beijing. [Photo: npc.gov.cn]
China's top legislature began discussing bills on two draft revisions of laws on the organization of courts and procuratorates to prevent intervention in judicial affairs.
Lawmakers will deliberate the bills at a four-day bi-monthly session of the National People's Congress Standing Committee, which runs from Tuesday to Friday.
According to the draft revisions of the organic laws of the people's courts and the people's procuratorates, any organization or people cannot require judges or prosecutors to do anything outside their jurisdiction.
Judges and prosecutors should reject and make a faithful record of intervention in judicial affairs by officials and their meddling in specific cases, said the draft revisions, adding that violators would be punished based on the seriousness of their behavior.
The draft revision to the Organic Law of the People's Procuratorates also legislates for procuratorates to urge administrative agencies to rectify their illegal exercise of functions and powers or inaction.