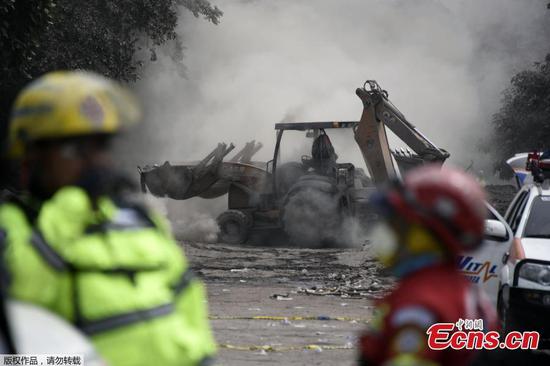 Rescuers use a backhoe loader to clear a street at the ash-covered village of San Miguel Los Lotes, in Escuintla department, about 35 km southwest of Guatemala City, June 4, 2018. (Photo/Agencies)
The death toll from the eruption of the Fuego volcano in Guatemala has risen to 99 as more bodies were found Wednesday, according to Guatemala's National Forensic Sciences Institute (INACIF).
The remains of 99 people have been sent to morgues, while just 28 have been identified so far, the INACIF said in a report.
"We already have data with names and locations where there are missing persons and that number is 192," said Sergio Cabanas, head of Guatemala's disaster management agency.
It has been over 72 hours after Sunday's volcanic explosion, and firefighters assumed it is impossible to find anyone alive amid the still-steaming terrain.
Explosions boomed from the 3,763-meter volcano Wednesday, unleashing a new flow of dangerous volcanic material. Emergency workers had to temporarily suspend their search late Tuesday after a new eruption triggered a landslide.
The country's seismology and volcanology institute warned of new flows descending Wednesday afternoon through canyons on the volcano's western slope toward the Pantaleon River, carrying boulders and tree trunks.
Experts also warned that heavy rains in the area could provoke avalanches due to the large flows of volcanic mud, which had been hardened by the rainfall, causing a problem for the rescuers to get people out or figure out how many are still buried there.
Clouds of smoke poured into the air as rescuers poked metal rods into the ground. It has been estimated that the temperature below the surface reached as high as 400-700 degrees Celsius, which made rescue work more difficult.
Hundreds of rescue workers, including firefighters, police and the military, were battling adverse conditions to search for remains in the aftermath of the landslide and risking their own lives in search of victims or a miracle survivor. Bulldozers stood by to help.
"We can only work in places where we can stand on the roofs of houses ... because the ash is very hot. There are places where you stick the pickaxe or rod in and we see a lot of smoke coming out and fire and it's impossible to keep digging because we could die," said 25-year-old rescuer Diego Lorenzana.
More than 12,000 people have been evacuated from their homes, with over 3,000 of them housed in temporary shelters, the disaster management agency said.
Local volunteers on Wednesday distributed food to rescue workers on the slopes. Food, water, toilet paper, diapers and other daily necessities have also been distributed to residents.
Alfonso Castillo, a 33-year-old farm worker, said he and his extended family of 30 had lived on a shared plot in the village of San Miguel Los Lotes on the sides of the mountain, where each family had its own home.
Everyone was accustomed to the sputtering smoke since the volcano has been one of the most active in Central America. Everything seemed normal on Sunday before a huge cloud of ash started pouring out, Castillo said.
The volcano shot thick plumes of ash into the sky that rained down on nearby towns and a thick layer of ash and volcanic rock blanketed the tiny village of San Miguel Los Lotes, with only some roofs sticking out.
"In a matter of three or four minutes the village disappeared," Castillo said.
The family hid in a house, the inside of which was heated up "like a boiler." They made their way onto the roof and to the upper story of another concrete home before rescuers arrived and took them to safety. But the life they knew has been totally destroyed.
Fuego volcano exploded around noon on Sunday, affecting more than 1.7 million people. A state of disaster has been declared for the southern departments of Escuintla, Sacatepequez and Chimaltenango, the three most affected in this disaster.
"The conditions are critical in the areas near Fuego volcano," said Eddy Sanchez, director of the National Institute of Seismology, Volcanology, Meteorology and Hydrology, adding that Sunday's eruption is the most violent explosion of Fuego volcano since 1974.
According to volcanologists, eruption records of Fuego Volcano, one of the country's most active volcanoes, date back to 1542. At its fiercest, the volcano could spray ash all the way to Guatemala's southern neighbors of El Salvador and Honduras.