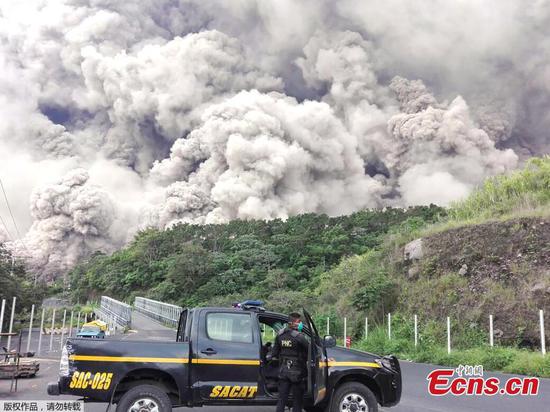 A police officer stumbles while running away from a new pyroclastic flow spewed by the Fuego volcano in the community of San Miguel Los Lotes in Escuintla, Guatemala, June 4, 2018. (Photo/Agencies)
A total of 192 people remained missing as of Tuesday due to the eruption of Fuego volcano in Guatemala, according to government authorities.
Sergio Cabanas, executive secretary of the National Coordination for Disaster Reduction of Guatemala (CONRED), updated the information in a press conference.
CONRED said on Twitter that by 1:00 p.m. local time (2000 GMT), the death toll from the volcano eruption reached 70, as rescuers recovered more bodies buried by ashes and mud that were swept into rivers.
CONRED also said the number of injuries remains at 46, while 1.7 million people have been affected. At least 3,271 people have been displaced and 2,625 relocated to temporary shelters.
The eruption has destroyed a bridge and affected two electricity grids and La Aurora International Airport in Guatemala City, which resumed operation on Monday.
Fuego volcano exploded around noon on Sunday and lava began flowing down in the afternoon.
According to CONRED, the eruption is "the strongest one recorded in recent years."
A state of disaster has been declared for the southern departments of Escuintla, Sacatepequez and Chimaltenango, which suffered the most in the disaster.
Cabanas said that more communities will be evacuated so as to prevent possible lahar floods from causing further loss of lives.
"The conditions are critical in the areas near Fuego volcano," said Eddy Sanchez, director of the National Institute of Seismology, Volcanology, Meteorology and Hydrology.
Sanchez said that the rescue missions had encountered difficulties since some soil that was originally perceived to be cold turned out to be up 400 degrees Celsius.
According to Sanchez, Sunday's eruption is the most violent explosion of Fuego volcano since 1974.
He added that the National Autonomous University of Mexico had sent a team of scientists to study the volcano.
On Tuesday, Fuego volcano erupted again, unleashing a new flow of dangerous volcanic material. The latest explosion forced thousands of rescuers to abruptly suspend the search for victims.
According to volcanologists, eruption records of Fuego Volcano, one of the country's most active volcanoes, date back to 1542.
At its fiercest, the volcano could spray ash all the way to Guatemala's southern neighbors of El Salvador and Honduras.