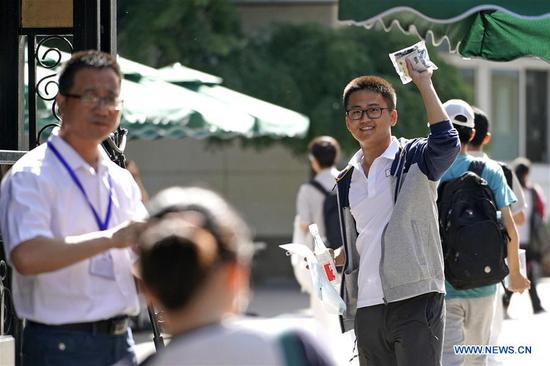 An examinee waves to his family at the exam venue at Beijing No. 4 High School in Beijing, capital of China, June 7, 2018. About 9.75 million students have registered for the national college entrance examination, which takes place from June 7 to 8. (Xinhua/Shen Bohan)
Thursday marks the first day of gaokao, China's national college entrance examination, with about 9.75 million students expected to take the life-changing test this year – the highest in eight years.
In the early morning, parents and teachers around the country gathered in front of the gates of those schools designated as sites for such exams, some wearing red clothes for good luck to express their best wishes to and cheer for the young candidates.
The two-day exam is regarded by many as one of the most critical turning points in a student's life as its result could provide with "one-way" tickets to higher education.
"The gaokao is a crucial system to ensure equality in education. The system is tasked with the important mission to educate and pick talent for the state," emphasized Chinese Vice Premier Sun Chunlan as she visited the National Education Examinations Authority to inspect the preparations for gaokao on Tuesday.
China's Ministry of Education and other agencies began inspections in some regions since last weekend to fight cheating and fraud, and to ensure the security and confidentiality of exam papers during printing, transportation, storage, distribution, and grading work.
The Ministry of Education issued a circular on Wednesday asking authorities at all levels to create a sound environment for students sitting for the test.
"Education departments and examining bodies at various levels should coordinate on noise control, as well as sanitary and epidemic prevention and heatstroke prevention to better serve students," the circular said.