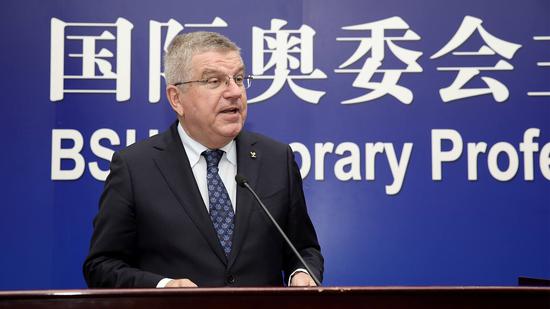 c9c98ea41aa64c0d93455cbf4d479d79
Thomas Bach, president of the International Olympic Committee (IOC), was appointed as the honorary professor of Beijing Sport University (BSU) on June 5.
At the university's national team training base, BSU President Chi Jian handed the letter of appointment over to Bach, on behalf of the IOC, who bestowed a trophy symbolizing excellence, respect and friendship to the BSU in return. 
The 64-year-old former foil fencer of Germany was elected as the ninth president of the IOC and became the first Olympic champion to head the IOC.
"BSU has cultivated many Olympic and world champions, and today, one more champion is born, that is me," Bach said jokingly in his speech about the great honor of being an honorary professor at BSU.
As the first city hosting both Summer Olympics and Winter Olympics, Beijing makes history, he said. He also talked about the opportunities the Beijing 2022 Winter Olympics will bring about, and praised the efforts made by the Beijing Organizing Committee for the 2022 Olympic and Paralympic Winter Games.
The university has made great contributions to carrying forward the Olympic values and spreading the Olympic spirit, he added, hoping all faculties will forge ahead hand-in-hand and play a leading role in the development of world sports.