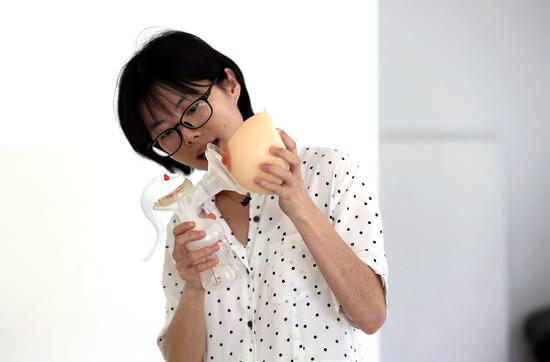 Li shows a class how to use a breastfeeding pump. (ZOU HONG/CHINA DAILY)
Qualifications
Unlike countries such as the United States and Australia, where pediatricians, nurses and people with related backgrounds can gain certificates from the International Board of Certified Lactation Consultants, China has no equivalent professional qualification. Instead, licenses are issued by private training institutions, and many practitioners begin providing services after just one or two weeks' training.
Statistics based on thousands of questionnaires collected nationwide every five years as part of the National Health Survey show that the proportion of children age 6 months or younger who were breastfed exclusively was 58.5 percent in 2013, a significant increase from 27.6 percent in 2008.
However, according to Zhang Yue, director of the Children's Healthcare Department at the Chinese Center for Disease Control and Prevention, discrepancies in research methods mean it is difficult to establish if China has already reached the World Health Organization's target of raising the rate of exclusive breastfeeding in the first six months of life to at least 50 percent by 2025.
The picture is undoubtedly better than a few decades ago. Research shows that in 1990 the exclusive breastfeeding rate for children age 4 months or younger in Beijing fell to 13.6 percent as a result of many factors, especially the rising use of baby formula, she said.
To address the problem, the WHO and UNICEF launched the Baby-friendly Hospital Initiative in 1991, and China's more than 7,000 hospitals took part until 2002.
More recently, to foster wider adoption of breastfeeding, the 2015 Advertising Law of the People's Republic of China emphasizes careful monitoring of the promotion of baby formula and punishments for false claims.
In addition, the national health authorities provide annual training about breastfeeding to medical professionals nationwide, and all hospitals allied to the Baby-friendly Hospital Initiative are required to offer consultations via hotlines.
"Despite this, medical professionals are working under great pressure because of a shortage of resources. Many have very limited time to provide consultations, let alone a personalized service," Zhang said. "Both the public and the government need to make the effort to build a professional training system for people-oriented services to support breastfeeding."
Education shortfall
Liang Qi, a breast surgeon at Chengdu Women's and Children's Central Hospital in Sichuan province, said medical schools do not offer lectures about the treatment of postnatal problems such as severely swollen breasts or malfunction of the mammary glands, and breast surgery specialists have conducted little related research.
"Those doctors focus on illnesses such as breast cancer and severe inflammation. We have a severe shortage of personnel to help mothers handle basic breastfeeding problems to prevent them turning into a serious illness," he said.
The outpatient department of the hospital's breast surgery clinic sees about 30,000 patients annually, and about 40 percent have inflammations as a result of inappropriate treatment during breastfeeding.
"Many use a wooden comb to scrape oil over their swollen breasts, which is a treatment from ancient times. Others were treated incorrectly by 'consultants'," Liang said.
Since 2012, the Homebase for Breastfeeding Mothers has taken the initiative by gathering together experienced support service providers and mothers passionate about promoting breastfeeding.
"We have used their experiences to devise standardized procedures and produce guidelines to train more practitioners," Dong said.
The group continues to post accredited research papers online, along with practical advice from doctors and other practitioners in the field. Moreover, in recent years, about 40,000 mothers have attended lectures given by qualified professionals and 3,000 breastfeeding consultants have been trained.
"As the benefits of breastfeeding become better known, more young mothers are trying to feed their babies on their own, so support services should be better regulated as soon as possible and treated with more respect," said Ning Ping, director of the breast surgery clinic at the women's and children's hospital in Chengdu.
The clinic is planning to cooperate with private groups to hold seminars to promote the exchange of medical knowledge and experience between doctors and providers of breastfeeding services, who have been invited to observe postnatal nurses at work and learn from them, he added.
Zhang, from the CDC, said the National Health Commission is drafting a strategy to establish a breastfeeding certificate system, and consultancies will be opened in hospitals involved in the Baby-friendly Hospital Initiative to provide mothers in need with reliable, personalized services.