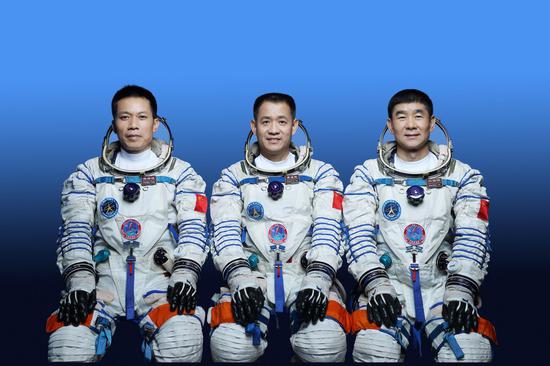 Chinese astronauts Nie Haisheng (C), Liu Boming (R) and Tang Hongbo will carry out the Shenzhou-12 manned spaceflight mission. (Photo by Xu Bu/Xinhua)
Nie Haisheng, Liu Boming and Tang Hongbo, the first Chinese astronauts to live and work in the country's space station currently under construction, made their public debut as a crew on Wednesday at the Jiuquan Satellite Launch Center.
The trio will carry out the Shenzhou-12 manned spaceflight mission, and Nie will be the commander, Ji Qiming, assistant to the director of the China Manned Space Agency (CMSA), announced earlier on Wednesday.
The Shenzhou-12 spaceship is expected to be launched on Thursday morning from the launch center in northwest China. It will later dock with the in-orbit space station core module Tianhe, forming a complex with Tianhe and the cargo craft Tianzhou-2. The astronauts will then be stationed in the core module and remain in orbit for three months.
This will be the first manned mission during the construction of China's space station, with aims to conduct in-orbit verification of technologies concerning the astronauts' long-term stay and health care, recycling and life support system, supply of space materials, extravehicular activities and operations, as well as in-orbit maintenance, Ji said.
Nie, the most experienced among the three, was in the Shenzhou-6 mission in 2005 and the Shenzhou-10 mission in 2013.
It will be Liu's second spaceflight, as he once participated in the Shenzhou-7 mission in 2008, which featured a landmark spacewalk.
Tang will be a newcomer to space. He became a member of the second batch of Chinese astronauts in 2010.
Zhai Zhigang, Wang Yaping and Ye Guangfu will be the backup crew, Ji said.
China launched Tianhe on April 29 and Tianzhou-2 on May 29. The two completed a computer-orchestrated rendezvous and docking on May 30, waiting for the first crewed mission to unpack the cargo.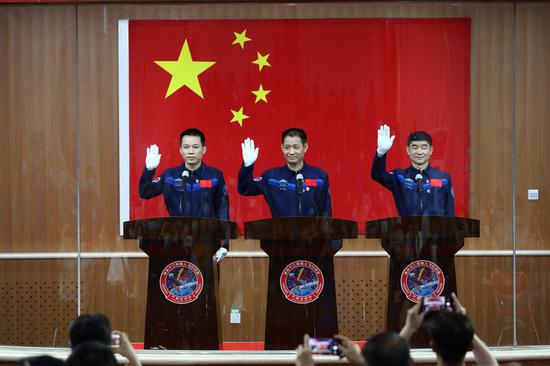 Chinese astronauts Nie Haisheng (C), Liu Boming (R) and Tang Hongbo meet the press at the Jiuquan Satellite Launch Center in northwest China, June 16, 2021. (Xinhua/Ju Zhenhua)
CREW'S EXPECTATIONS
"We are honored to take the lead in a series of manned missions for the space station construction, and we have many expectations," Nie said at a press conference held at Wentiange, or "Ask-the-Sky Pavilion", at the launch center on Wednesday.
"Our upcoming mission will take longer than before. We will not only make the core module a 'space home,' but also carry out a series of key technology verifications. There will be more arduous tasks and more challenges."
"Every stride we take will represent the courage and persistence of mankind in exploring space, and contribute Chinese wisdom and strength to the peaceful use of outer space," he added.
It has been 13 years since Liu participated in the Shenzhou-7 mission. He has been dedicated to training and maintained high expectations for his new mission.
"We have carried out strict, systematic and comprehensive training to ensure each extravehicular activity is completed well, especially under the protection of the new-generation extravehicular spacesuit," Liu said.
Tang acknowledged that pressure is inevitable since it will be his first spaceflight mission. "But I believe that pressure builds up motivation and confidence guarantees success. After 11 years of learning, training and testing, I am full of confidence in myself and our team," Tang said.
He said he hopes to meet and work with astronauts from other countries in the space station in the future.