The trajectory of China's Chang'e-4 lunar probe was corrected on Sunday afternoon, the second such maneuver since the vessel blasted off on Saturday towards the Moon.
The task, conducted by several satellite tracking and control stations in China, aims to confirm the latitude and longitude of the probe, check information sent by the probe, and prepare for its third trajectory correction.
"Chang'e-4 has just completed its second trajectory correction, and the third one is designed to ensure Chang'e-4 enters the designated orbit and prepare for its soft landing," Li Peng, assistant engineer at Kashgar Satellite Tracking Station of Xi'an Satellite Control Center (XSCC), told China's national broadcaster CCTV.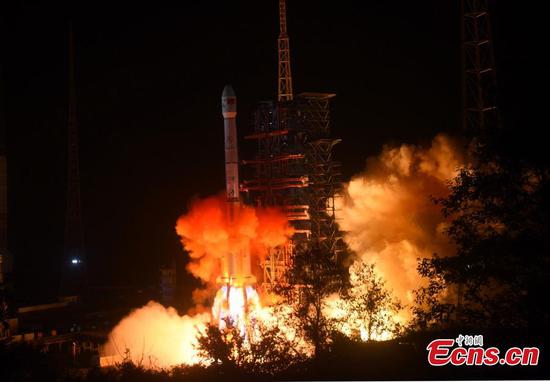 A Long March-3B rocket carrying the Chang'e-4 lunar probe blasts off from Xichang at 2:23 a.m. in the Xichang Satellite Launch Center in southwest China's Sichuan Province, Dec. 8, 2018. (Photo: China News Service/Sun Zifa)
The journey of Chang'e-4 to the orbit of the Moon will take two hours less than that of its predecessor, Chang'e-3.
"During the 110-hour Earth-Moon transfer, we will spare no efforts to ensure the precise entry conditions at every time," said Liu Qing, another engineer at Kashgar Satellite Tracking Station.
In the next month, scientists will conduct the third trajectory correction, near-moon braking and other key tasks, which will pave the way for a successful soft landing of the probe on the far side of the Moon.