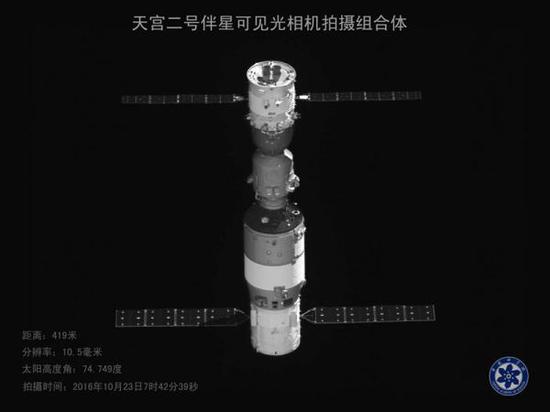 An image sent back by an accompanying satellite shows Shenzhou XI (top) and Tiangong II (bottom) in space on Oct. 23, 2016. The satellite took the photo at a distance of 419 meters from Tiangong II and Shenzhou XI. (Photo/CCTV)
China's Tiangong II space laboratory, which has exceeded its designed life span, remains in space and is still able to conduct scientific tasks, according to its developer and a leading expert.
Pang Zhihao, a renowned space industry observer in Beijing, said despite the spacecraft's 24-month designed life span having been reached, it seems to be in good condition and is still carrying out work.
"Tiangong II is now like a large scientific satellite," he said on Wednesday.
The China Manned Space Agency said in an article published on Saturday on its WeChat account that the space lab, which was lifted into space on Sept 15, 2016, remains in orbit and is still "unswervingly carrying out its missions". It did not elaborate on the space lab's future agenda or when it would return back to Earth from its orbit nearly 400 kilometers above ground.
Tiangong II has helped to pave the way for China's plans for a manned space station, the agency said.
"In addition to scientific applications, the spacecraft can also perform orbit transfer experiments," Pang said. "Such experiments can help to explore methods of avoiding space debris for our future space station, and also can allow Tiangong II's cameras to take high-definition pictures of Earth."
Pang added that researchers can use the space lab to repeat some tests and experiments on equipment or technologies that will be used on the future space station, further verifying the reliability of the equipment and relevant technologies.
China plans to start putting together its first manned space station around 2020. The space station is expected to be fully operational around 2022 and is set to operate for about 15 years, according to the China Academy of Space Technology.
In 2024, it likely will become the world's only space station if the United States-led International Space Station is retired that year as planned.
The multimodule station, named Tiangong, or Heavenly Palace, will be mainly composed of three parts-a core module attached to two space labs-having a combined weight of more than 90 metric tons, the academy said.
Tiangong II was lifted atop a Long March 2F carrier rocket from the Jiuquan Satellite Launch Center in Northwest China's Gobi Desert two years ago. It is 10.4 meters high, 3.35 meters in diameter and weighs 8.6 tons.
Chinese astronauts Jing Haipeng and Chen Dong entered the lab on Oct 19 that year, after their Shenzhou XI spacecraft docked with the lab, and stayed inside for 30 days.
From April to September 2017, Tiangong II and the Tianzhou I cargo spacecraft fulfilled several docking and in-orbit refueling operations, which demonstrated resupply and refueling technologies applicable to the planned manned space station.