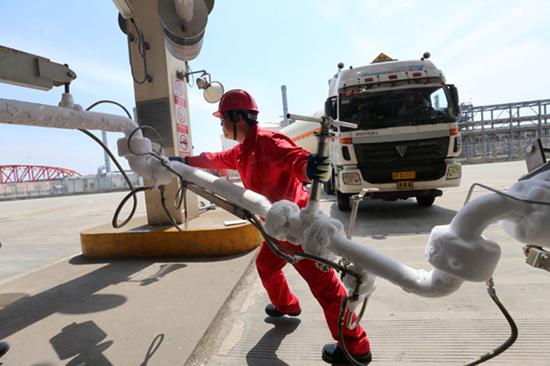 An employee shifts the LNG pipeline after filling the transport vehicle at the CNPC LNG center in Jiangsu Province. (Photo by Xu Congjun/for China Daily)
China's tariff on exports of U.S. liquefied natural gas could price the United States out of the Chinese market and rearrange the global market, warned some U.S. industry leaders and experts.
China announced on Tuesday retaliatory tariffs on an additional $60 billion worth of U.S. imports, including a 10 percent tariff on LNG, effective Monday.
China's announcement came after the U.S. said on Monday it would implement a 10 percent tariff on an additional $200 billion worth of Chinese imports as of Monday.
Charlie Riedl, executive director at the Washington-based Center for Liquefied Natural Gas, said in a statement that "certainty is key for the U.S. LNG industry, where timelines are years long and investments are worth billions, and these tariffs cause serious uncertainty".
"These tariffs have the power to price U.S. LNG out of the Chinese market, the second-largest LNG importer in the world.
"Tariffs will also make long-term contracts more difficult to negotiate," he said.
U.S. LNG exports to China, almost nonexistent less than two years ago, had gradually increased and accounted for about 10 percent of China's total imports of the fuel by January.
Contrary to a steady increase in export volumes as originally expected before the trade conflict, that rate dropped to about 3 percent in July, according to Sanford C. Bernstein & Co, an investment research firm.
Robert Ineson, executive director of global LNG at IHS Markit, an industry and market intelligence analysis company, said the tariff will have a chilling impact beyond the U.S. and China.
"The problem is to get the next round of build-out to get buyers to want contracts. This whole round of trade conflicts makes all buyers ... nervous about doing business with the U.S.. The LNG market is in Asia," he said.
Kenneth Medlock, senior director at the Center for Energy Studies at Rice University's Baker Institute for Public Policy, said, "The tariff will raise the cost of U.S. LNG imports to Chinese buyers thereby incentivizing them to buy more from other sources, such as Australia, Qatar, Russia, West Africa."
This will displace U.S. volumes into other markets as the ensuing arbitrage rebalances the global system. In other words, volumes get reshuffled around the world. The phased escalation of the tariff will allow Chinese buyers to realign their supply agreements, effectively adjusting to the new reality, according to Medlock.
Chinese analysts believe China's tariff on exports of U.S. LNG could deter spot procurement of U.S. volumes in the near term.
Li Li, research director at energy consulting company ICIS China, said the potential tariff could be a major blow for U.S. LNG companies as many Chinese utilities already indicated no intention to look to U.S. cargoes for new spot deals given the current trade tensions.
China is capable of finding other natural gas resources before the peak demand for gas during the winter, she said.
According to Wang Lu, an analyst at Bloomberg Intelligence, China is likely to tap other LNG suppliers, including Australia, Russia, the Middle East and Papua New Guinea, considering the additional tariff on U.S. LNG exports.
"The tariffs ... won't dent China's LNG demand, and its broad-based sources of energy imports will give it the upper hand in the energy trade showdown," she said.
According to Bloomberg Intelligence, China's new 10 percent tariff is likely to erode U.S. LNG competitiveness and shift China's demand to other exporters, including Australia and Qatar, China's largest LNG providers, it said.
Russia's LNG exports also are rising as its Yamal project starts production.
Wang said China will import more LNG from Papua New Guinea.