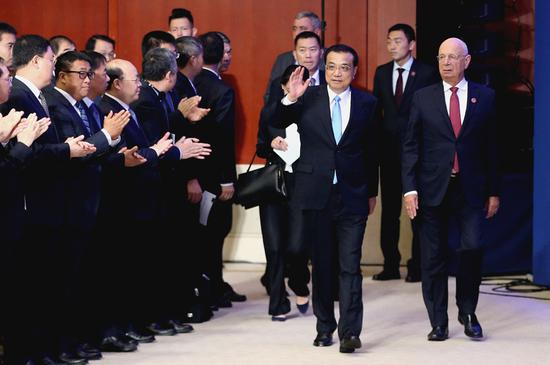 Premier Li Keqiang and Klaus Schwab, founder and executive chairman of the World Economic Forum, greet participants of the Annual Meeting of the New Champions 2018 in Tianjin, while entering the forum's opening ceremony on Wednesday. (Photo by Wu Zhiyi/China Daily)
Special: Summer Davos Forum 2018
Premier Li Keqiang called on Wednesday for safeguarding economic globalization and accelerating the new industrial revolution by promoting more inclusive development, innovation and new drivers for economic growth.
The authority of the rule-based multilateral trading system, the foundation for globalization and free trade, should be respected and safeguarded as uncertainties and anti-globalization sentiment are on the rise, Li said.
He spoke at the opening ceremony of the World Economic Forum's Annual Meeting of the New Champions 2018, also known as Summer Davos, in Tianjin.
Unilateral action cannot solve problems, and all nations should help boost the new industrial revolution, Li said.
The event, with the theme "Building an Innovation Society in the Fourth Industrial Revolution", has drawn more than 2,500 business leaders, government officials, researchers and journalists from more than 100 countries.
In the past few years, China has explored how to cultivate new economic drivers, Li said.
The country did not rely on strong stimulus plans, but instead promoted administrative streamlining, tax and fee reduction and business startups to develop emerging industries, he said.
Those industries have exceeded expectations and play a key role in stabilizing economic growth, restructuring the economy and expanding employment, he said.
In the first half of 2018, China's GDP grew by 6.8 percent compared with the same period last year, maintaining medium- to high-speed economic growth for 12 consecutive quarters, Li said.
The economy is in good condition but is in a critical stage of shifting from old drivers to new ones, the premier said.
China has effectively shrunk institutional costs and production costs, promoted a better business environment and helped to improve quality and efficiency for enterprises, Li said.
The premier said China will prohibit any new burdens and will research and promulgate new policies to substantially reduce taxes and fees as well as easing difficulties in getting financing for the real economy.
China will further open up to the outside world, lower the threshold for market access, improve policy transparency and conduct equitable supervision over all types of enterprises, Li said.
The business environment will be further optimized, providing equal treatment for all enterprises registered in China in terms of administrative streamlining, tax and fee reduction and fair and equitable supervision, he said.
Li also pledged to lower China's overall tariffs and remove all unreasonable procedures in customs clearance.
In addition, intellectual property rights will be strongly protected to stimulate innovation, Li said. Without respect for knowledge and protection of property rights, China cannot achieve innovation-driven development, he said.
Since China joined the World Trade Organization, payments Chinese companies have made to use intellectual property rights have increased 14-fold, Li said. Stricter measures will be taken to punish violators and provide backing for innovation, he added.
This year's Summer Davos is the biggest of the annual meetings, said Klaus Schwab, founder and executive chairman of the World Economic Forum, when meeting with the premier before the ceremony.
The WEF will further cooperation with China, support globalization and multilateralism, and promote the rule-based global governance system, Schwab said.
Also on Wednesday, Li met with Serbian President Aleksandar Vucic, Latvian President Raimonds Vejonis, Estonian President Kersti Kaljulaid and Samoan Prime Minister Tuilaepa Sailele Malielegaoi. They all participated in the event.