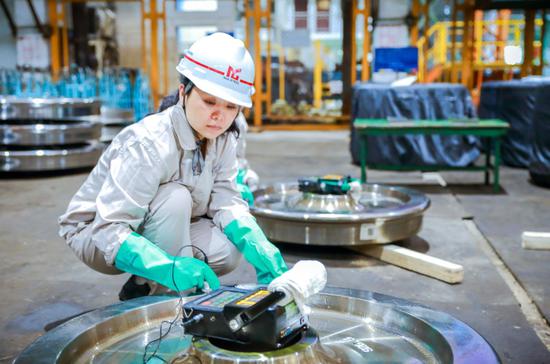 A quality-control engineer inspects a high-speed train wheel at the plant of Ma Steel in Ma'anshan, East China's Anhui province. (Photo by Zhang Mingwei/For China Daily)
Deutsche Bahn's new order confirms Ma Steel products' quality, supremacy
A shipment of 160 Chinese-manufactured high-speed train wheels arrived in Germany on July 20, according to exporter Ma'anshan Iron & Steel Group, more widely known as Magang Group or Ma Steel.
Based in Ma'anshan city of East China's Anhui province, Ma Steel is the first Chinese company to export high-speed train wheels.
The deal for wheels was signed between Ma Steel and German railway company Deutsche Bahn or DB AG in the second half of 2017. The Chinese wheels will be used in the latter's ICE high-speed trains.
"The exported wheels, which will meet the repairing need of different models of ICE trains, permit speeds up to 320 kilometers per hour," said Liu Liu, deputy director of the quality supervision department of Ma Steel's train wheel and axle sector.
Production of the wheels is carried out by Ma'anshan Iron& Steel Co Ltd, a publicly traded company controlled by the Ma Steel group. Its shares are listed in both the Chinese mainland and Hong Kong.
The wheels were first delivered to France at the end of May and later re-packaged at Valdunes, a France-based high-speed train wheel manufacturer and subsidiary of Ma Steel, according to Liu.
"They were manufactured in our Ma'anshan-based plant, whose packaging process is different from DB's requirement," said Liu.
Ma Steel acquired Valdunes in 2014 for 13 million euros ($14,69 million), after the French company entered a bankruptcy restructuring process. Ma Steel's acquisition saved 487 jobs.
Specializing in the design and manufacture of wheels, axle-and-wheels sets (two wheels and an axle), Valdunes is the sole supplier of these sets for TGV high-speed trains, holders of the world rail trial speed record of 574.8 km per hour.
Ma Steel became DB's first Chinese train wheel supplier in 2009 to provide 300 wheels for cargo trains.
Orders from DB has been steadily rising since then. A previous media report said by June of 2015, Ma Steel had shipped over 10,000 wheels for passenger and cargo trains of DB.