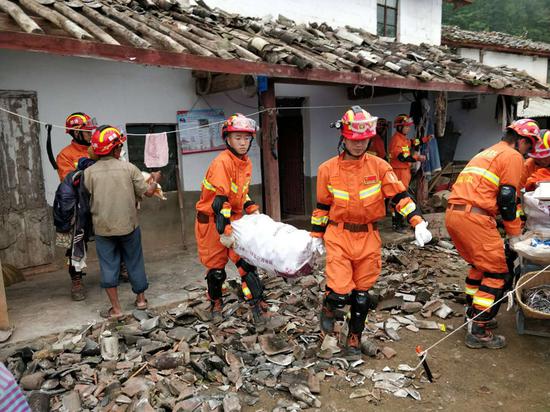 Rescuers help villagers move their belongings in a village in Mojiang Hani autonomous county, Yunnan province, on Sunday. A magnitude 5.9 earthquake hit the region on Saturday morning. (Provided to China Daily)
At least 28 people sustained minor injuries in Southwest China on Saturday when Yunnan province was hit by the highest-magnitude earthquake recorded in the area in the past four years, according to local authorities.
The 5.9 magnitude quake struck Mojiang Hani autonomous county at 10:31 am, when most residents were working outdoors on their farms. Seven of the injured remained hospitalized as of Sunday morning, the county government said.
The temblor, whose epicenter was 11 kilometers deep, affected almost 25,000 people in 15 townships. Local authorities said they had erected 668 tents in 63 temporary shelters to accommodate almost 5,000 people who had to be evacuated.
The quake severely damaged thousands of houses, plus the infrastructure for power supplies and telecommunications, although these were quickly restored in most of the affected areas, authorities said.
"Daily necessities are in abundant supply at stable prices," the county government said.
On Sunday, rescue workers were combing through affected areas to remove safety hazards and demolish the most severely damaged houses.
"The main task is to eliminate danger. Evacuated residents will be allowed to return to transfer their property if rescue workers find no safety hazards in their damaged homes," Gao Yongjian, head of Tongguan, the worst-hit township, told China Central Television on Sunday.
Footage from the broadcaster showed cracks in many of the houses, which feature white outer walls and gray tile. Many tiles were broken and scattered on the ground, while some of the older houses had collapsed.
The Yunnan Seismological Bureau said 192 aftershocks had been recorded in Mojiang as of Sunday morning, with two registered at more than magnitude 4 and one at more than magnitude 3.
By Sunday, more than 1,800 workers were engaged in rescue operations, while the country's top emergency management authority initiated an emergency response and dispatched working teams to the scene, according to the Ministry of Emergency Management.
The government of Pu'er city, which administers Mojiang, and the Mojiang county government have arranged disaster-relief funding of 5 million yuan ($730,000) and 3 million yuan respectively, Hu Jianrong, vice-mayor of Pu'er, told a media briefing on Sunday.
Hu added that 1,328 tents, 3,900 blankets, 2,000 sets of bedding, 2,000 folding beds and 600 sets of waterproof clothing had been sent to the affected areas.
The National Meteorological Center said rain may hinder rescue efforts, and predicted that the light rain in the county over the weekend would continue on Monday and could become heavier.