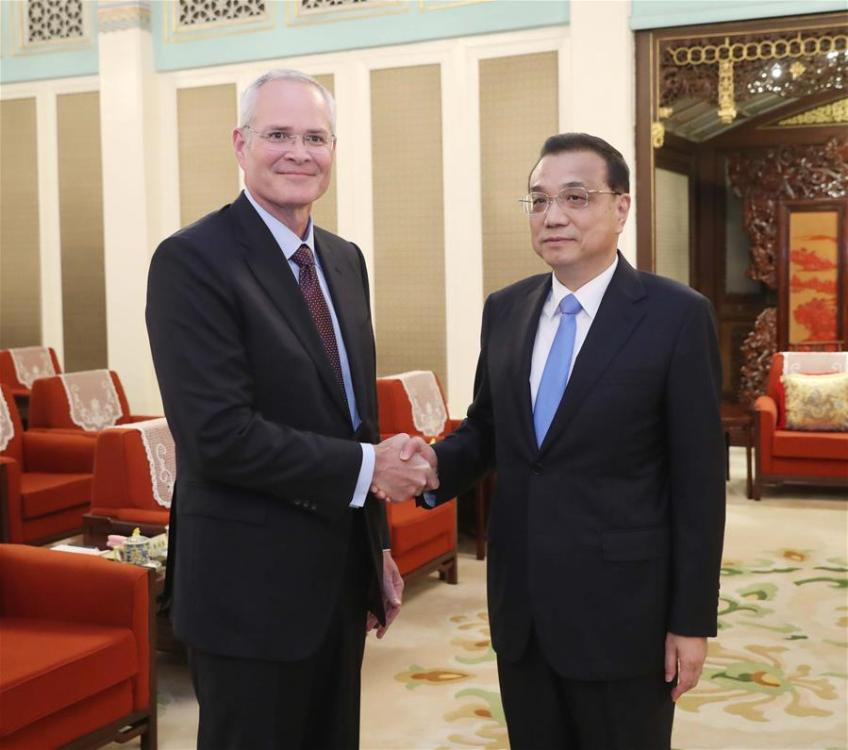 Chinese Premier Li Keqiang (R) meets with Darren Woods, ExxonMobil chairman and CEO, in Beijing, capital of China, Sept. 7, 2018. (Xinhua/Liu Weibing)
Chinese Premier Li Keqiang on Friday met with Darren Woods, ExxonMobil chairman and CEO.
The healthy development of China-U.S. two-way investment is not only beneficial to both sides but also contributes to the stable development of world economy and the growth of international trade, said Li, calling on all countries in the world to jointly safeguard trade and investment liberalization and facilitation.
Li said that China welcomes ExxonMobil to build a large-scale wholly-owned petrochemical project in China, expressing the hope that foreign companies, including ExxonMobil, seize the opportunity to cooperate with China to better achieve mutual benefits and win-win results in accordance with market rules and commercial principles.
Li said that the achievements of China's development over the past 40 years benefited from reform and opening up, and China will continue to follow this path.
The Chinese side will further relax market access, treat Chinese and foreign companies equally, better protect intellectual property rights, continuously optimize the business environment and provide more convenience for foreign companies to invest in China, in order for China to remain a hot investment destination for foreign companies, said Li.
The Chinese premier hoped that U.S. companies, including ExxonMobil, will actively expand their investment in China and provide an objective and fair voice to promote people to positively and rationally consider China's reform, opening up and development.
During Woods' visit to China, ExxonMobil discussed with the Chinese side on building a wholly-owned petrochemical project worth 10 billion U.S. dollars in China's Guangdong Province.
Noting that ExxonMobil has a long cooperative relationship with China, Woods expressed the appreciation of China's recent measures on expanding opening up, optimizing the business environment and protecting intellectual property rights.
Woods said such measures by China will not only help China achieve its development goals but will also provide a wide range of opportunities for enterprises such as ExxonMobil to conduct cooperation in China.
Woods said that many of ExxonMobil's development goals fit with the China's development plan, and he is confident in the success of relevant cooperation projects.
ExxonMobil is willing to use world-class technology to help China's manufacturing and carry out long-term cooperation with China.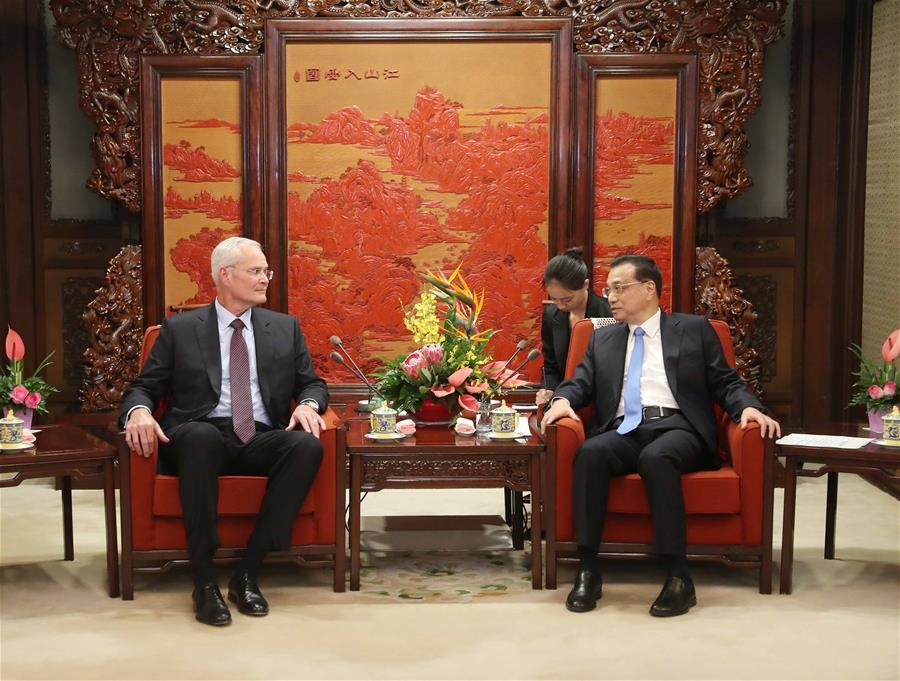 Chinese Premier Li Keqiang (R, front) meets with Darren Woods, ExxonMobil chairman and CEO, in Beijing, capital of China, Sept. 7, 2018. (Xinhua/Liu Weibing)