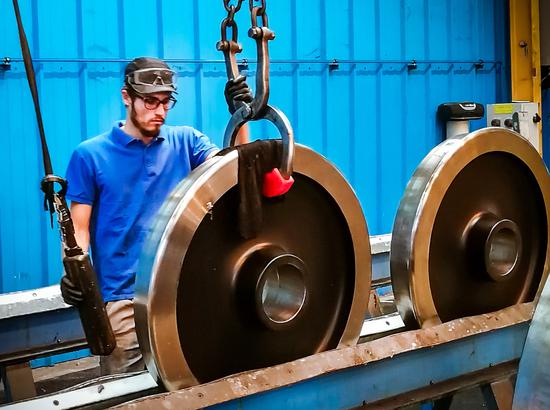 A worker of Valdunes, a French high-speed train wheel manufacturer, repackages the Ma Steel high-speed train wheels to be shipped to Germany. (Photo provided to China Daily)
Heike Hanagarth, board member of DB, had told Frankfurter Allgemeine Zeitung, a German newspaper, that a part of the company's demand for train wheels sets - 35,000 annually - would be met by its Chinese partners beginning 2017.
In November 2017, Ma Steel bagged a new order from DB to provide 4,200 wheel sets for its trains. Another 1,500 sets were then added to the deal. The recently exported high-speed train wheels were not included in the order for wheel sets, said Liu.
"Germany enjoys a large railway network and has many world-leading railway companies. As a leading company in the country, DB is very strict about product quality, so cooperation with the company is a good testimony to our strengths," said Liu.
As one of China's largest steel makers, Ma Steel is the country's first train wheel manufacturer and has exported train wheels to over 70 countries and regions, most of which are participating in the China-led Belt and Road Initiative.
Though wheel manufacturing consumes just 2 to 3 percent of Ma Steel's iron and steel production, it has been one of the most profitable components of the group for decades.
Train wheels are now a major part of the group's business. It supplies 90 percent of the wheels for the cars of China's traditional non-high-speed trains.
With the rapid development of China's high-speed railway systems, both at home and abroad, Ma Steel is aiming to seize a significant market share in the emerging and rapidly developing market.
Ma Steel signed an agreement in 2012 with the China Academy of Railway Sciences, the top railway research and development body, to import and localize manufacturing for heavy-load locomotive wheels and wheels for high-speed trains traveling faster than 250 km/h.
It has also completed a 600,000-kilometer test at the China Railway Test and Certification Center to supply wheels for China's high-speed rail network, the largest in the world.
Ma Steel's wheels have been applied in part in China's two models of high-speed trains since 2015, while most of the trains still rely on imported wheels.
The country launched the Fuxing, or Rejuvenation, high-speed trains, which are entirely designed and manufactured in China and use Ma Steel's wheels.
In a previous media report, Ma Steel executives said the group will build high-speed train wheels into a new engine of growth in the near future.