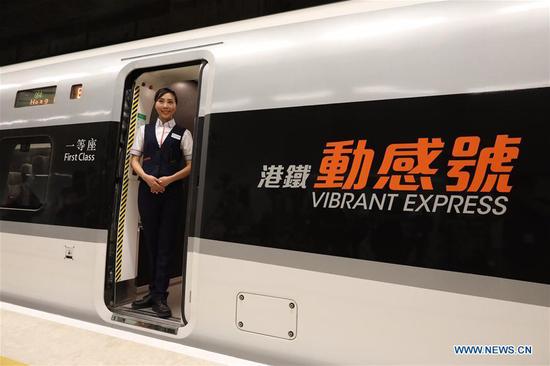 An attendant is seen on a train of the Guangzhou-Shenzhen-Hong Kong Express Rail Link (XRL), in Hong Kong, south China, Aug. 16, 2018. (Xinhua/Lui Siu Wai)
(ECNS) - Tickets for journeys on the long-awaited Guangzhou-Shenzhen-Hong Kong Express Rail Link will go on sale from today in both Hong Kong and the mainland cities, with services on the new high-speed railway set to begin on Sept. 23.
The Hong Kong section of the Express Rail Link (XRL) runs from the station in West Kowloon, heading north to the Shenzhen/Hong Kong Boundary, where it connects with the mainland section.
The MTR Corporation, operator of the XRL, said the pre-sales will include tickets for all short haul journeys to and from the West Kowloon Station and the six stations on the mainland, as well as all the medium to long haul journeys connecting to 38 destinations.
The shortest train linking West Kowloon Station with Beijing West Railway Station will be eight hours and 56 minutes, with a second-class fare at 1,077 yuan ($157). The bullet-train from Hong Kong to Shanghai will be eight hours and 17 minutes.
Both MTR and mainland railway operators will start selling tickets from 8:00 a.m. on Monday, via counters, online platforms and telephone hotlines.
MTR said buyers are allowed to purchase up to eight tickets per person when presenting valid original identification for each of the passengers.
The high-speed railway will offer direct services to 44 mainland destinations, among which 38 will be long-haul. The first train will depart at 7:00 a.m. on Sept. 23, from West Kowloon station to Shenzhen North station, with the price of the second-class fare to be 86 Hong Kong dollars (about $11).