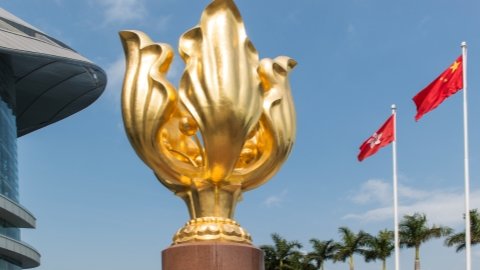 The Hong Kong Special Administrative Region (HKSAR) government and police on Saturday condemned illegal assemblies by protesters in Kowloon and the New Territories and said that police will strictly enforce the law against all violent and illegal acts.
The HKSAR said that protesters who breach the law should be brought to justice, while the police reiterated that anyone participating in an unauthorized assembly will be committing an offence.
A large group of protesters gathered in Tai Po on Friday although their request of such an event had been turned down by the police.
They damaged public properties and blocked thoroughfares including the Kowloon entrance of the Cross-Harbor Tunnel, and they also set fires in various places.
According to the police, some protesters aimed laser beams at police officers and some even hurled objects and stones at police officers.
After repeated warnings, the police dispersed the protesters, sometime using tear gas when necessary.
During the operation, HKSAR police arrested 16 people for unlawful assembly, possession of offensive weapon, assaulting a police officer and obstructing a police officer in the execution of duties.