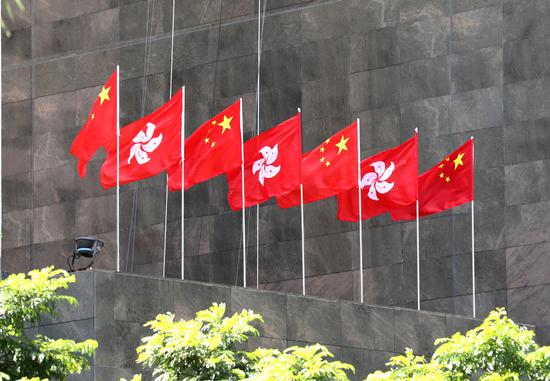 The Chinese national flags and flags of the Hong Kong SAR flutter in Hong Kong. (Photo/Xinhua)
Foreign Ministry spokeswoman Hua Chunying on Saturday urged the United Kingdom to immediately stop interfering in China's internal affairs and stop making random and inflammatory accusations on Hong Kong.
"It is simply wrong for the British government to directly call Hong Kong's Chief Executive to exert pressure," Hua said in an online statement.
Hong Kong today is a special administrative region of the People's Republic of China, long gone are the days when it was under British colonial rule, the spokeswoman added.
Noting the UK has no sovereignty, jurisdiction or right of supervision over Hong Kong, Hua said that affairs of Hong Kong brook no foreign interference.
According to the Basic Law, the central government shall be responsible for the foreign affairs relating to the Hong Kong SAR, she added.