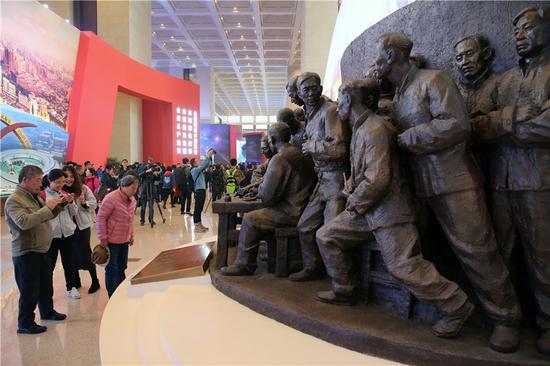 Visitors view a group statue commemorating the 40th anniversary of China's reform and opening-up at the National Museum of China in Beijing on Wednesday. (Wang Zhuangfei/China Daily)
Special: 40YearsOfReform
This year marks the 40th anniversary of China's reform and opening-up, which ushered in a new stage of development and brought about China's growth miracle.
From rural areas to cities, from pilot programs to nationwide projects, from economic restructuring to the comprehensive deepening of reform, the past four decades have witnessed "epic progress" and historic leaps for an old country. China has grown into the world's second-largest economy, the largest industrial producer, the largest trader of goods, and the holder of the largest foreign exchange reserves.
When China was destitute and had an economy on the verge of collapse in the late 1970s, the country made the strategic choice to make economic development its central task and adopted the policy of reform and opening-up, bringing about historic leaps for the Chinese nation in terms of economy, science, technology, national defense, and comprehensive national strength.
Today, as the world's second-largest economy, China is forging ahead to fulfill the goal of building a moderately prosperous society in all respects by 2020. Over the past 40 years, China's GDP has averaged an annual growth of around 9.5 percent, reached $12.84 trillion in 2017 with a per-capita GDP of $8,836. By lifting over 700 million people out of poverty, China has contributed greatly to the global fight against poverty.
Chinese people have emerged from a life of shortages and poverty and are now enjoying abundant supply and a moderately prosperous life. In this sense, the Chinese government should feel very proud of what they have achieved to date. Urban per-capita disposable income increased to $5,245 in 2017 from $199 in 1978, while rural per-capita net income rose to $1952 from $77. The number of rural and urban jobs in the country totaled 776 million at the end of 2017, up 93 percent from 1978.
China has been actively integrating with the world economy and expanding its opening up. The China International Import Expo, held in Shanghai this November, was a great initiative in this regard. Its foreign trade has registered an annual growth of 14.5 percent in US dollars terms. China's foreign goods trade volume moved up from 29th worldwide in 1978 to the top spot in 2013.
In 2017, China's goods imports and exports surpassed $4 trillion, accounting for 11.5 percent of the global sum, up from 0.8 percent in 1978. China's service trade volume climbed from 34th worldwide in 1982 to second place in 2014. In 2017, service imports and exports amounted to almost $700 billion, accounting for 6.7 percent of the world's total.
China's outbound direct investment rose from 28th globally in 1982 to second place in 2016. In 2017, China's ODI hit $124.6 billion. Foreign direct investment in China rose from 122nd worldwide in 1979 to second place in 2013 and saw an average annual growth rate of 46.1 percent from 1979 to 2017. In 2017, China's FDI stood at $131 billion.
China has comprehensively fulfilled its commitments to the WTO. As of 2010, China had already delivered on all of its tariff reduction commitments, lowering the overall tariff level from 15.3 percent in 2001 to 9.8 percent in 2010. In 2015, China's trade-weighted average tariff was reduced to 4.4 percent, fairly close to the 2.4 percent of US and 3 percent of the EU.
As a beneficiary of, active participant in and contributor to globalization, China will remain committed to its path of reform and opening-up, continue with its nonstop efforts to streamline administration, lower taxes, reduce fees, enhance policy transparency, and strengthen the protection of intellectual property rights. China will also further align its business environment with international economic and trade rules, significantly broaden market access, take the initiative to expand imports, encourage competition and oppose monopoly and create more opportunities for itself and the world.