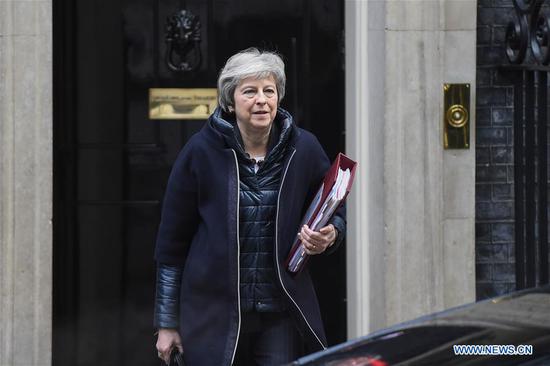 British Prime Minister Theresa May leaves Downing Street for Prime Minister's Questions in London, Britain, on Nov. 21, 2018. May has a scheduled meeting later today with European Commission President Jean-Claude Juncker. (Xinhua/Stephen Chung)
British Prime Minister Theresa May headed for Brussels Wednesday for Brexit talks, as politicians and political commentators in London said she would struggle to get her proposed Brexit plan through the British parliament.
May has a scheduled meeting later Wednesday with European Commission President Jean-Claude Juncker as she continues her struggling political career.
They will discuss the future political relationship between Britain and the European Union (EU) ahead of a crucial meeting of the European Council on Sunday.
Both sides hope the Sunday meeting will lead to support for the Brexit plan from the leaders of the 27 European member states.
Even if it crosses that hurdle, the proposals need to be ratified by each of the governments of the member states.
May's plan for Britain's departure from the EU have faced opposition from politicians from England, Scotland, Wales and Northern Ireland, and wide criticism from mainland Europe.
The loudest noises on the continent come from Spain, which voiced it will vote against May's plan if the situation of Gibraltar, the territory that Britain owns on the Iberian Peninsula, is not clarified.
With May winning full support from her new-look cabinet and so far escaping the prospect of a no-confidence vote from her own Conservative Party, she has reached the half-way point in her critical week unscathed.
Delegates at the annual conference of the Confederation of British Industry gave May a guarded thumbs-up for her strategy this week.
The expectation is that May's Brexit plan will be agreed after minor tweaking at the European Council on Sunday. EU countries want to avoid a no-deal scenario at all costs, boosting the chances of a yes vote in Brussels.
Then her plan faces a journey into the unknown in what will be a roller-coaster ride through the parliaments.
Ten MPs from Northern Ireland's Democratic Unionist Party have said they will oppose May's plan due to its possible impact on Northern Ireland's border.
The largest contingent of MPs from the Scottish Nationalist Party have threatened to vote against, and there is likely to be a thumbs down from Plaid Cymru, the Welsh Nationalist Party.
With opposition among both so-called "remainers" and "leavers" on her own Conservative benches, some commentators believe May is heading for a mission impossible.
Conservative members in the parliament hope that there will be enough MPs to vote in favor of May's Brexit plan. Any failure might lead to a collapse of the Conservative government, and then a general election.
That could see not only the end of May's tenure at Downing Street, but also loses of dozens of parliamentary seats for her MPs.
May's advisors hope that when the finger-biting finale happens in December the deal will win backing.
If it is rejected. the whole issue will be plunged into unknown waters, and Britain is likely to depart from the EU with no deal. Even the British military have been primed to prepare for such a leap into the unknown.