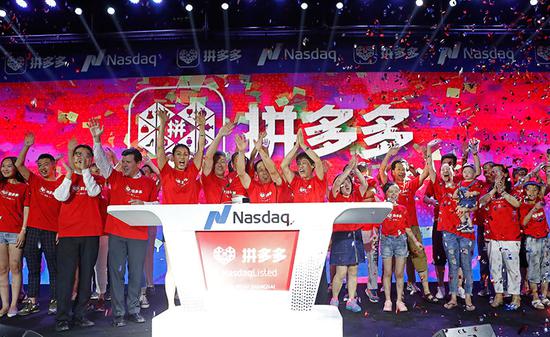 Pinduoduo employees celebrate the firm's listing on the Thursday in Shanghai. (Photo/China News Service)
China's market regulator said on Friday that online discounter Pinduoduo should strengthen platform management and regulate business activities of third-party vendors to maintain fair competition.
Regulators met with the e-commerce site's officials amid reports of counterfeiting.
The State Administration for Market Regulation said on its website that it required Pinduoduo to bolster the management and review of commodities and online traders, actively cooperate with regulators' investigations and obey the law to maintain healthy, rapid and sustainable development.
The company will thoroughly rectify and reform its conduct, cooperate with regulators and not shirk its responsibilities, Huang Zheng, Pinduoduo CEO, was quoted as saying in the statement.
The authority said this week it was paying close attention to media reports of infringement and counterfeit goods sold on Pinduoduo. It required the Shanghai Administration for Industry and Commerce as well as other regulators to launch targeted investigations.
Pinduoduo said it is committed to fighting fake products and has already taken down more than 10 million products over counterfeiting concerns as well as blocked over 40 million links to goods suspected of piracy.
When it debuted on the Nasdaq Stock Market on July 26, its shares rocketed by more than 40 percent on the first trading day.
Founded in 2015, Pinduoduo is now the third-largest e-commerce platform in China, behind Alibaba Group and JD, and it has more than 300 million users.
Pinduoduo's share price slumped below its initial public offering price this week following reports of counterfeit commodities and the authority's investigation. The company lost $5 billion in market capitalization in the following five trading days.
"Pinduoduo should ramp up efforts to inspect third-party vendors' qualifications, raise the entry threshold and screen out fake goods by virtue of artificial intelligence, big data algorithms and consumers' evaluations," said Wang Huie, a senior analyst at Beijing-based internet consultancy Analysys.
Dong Yizhi, a researcher at China's E-Commerce Research Center, said fighting counterfeiting is a long process, but online platforms should spend the considerable money and technological methods necessary to fight intellectual property infringement and the sale of copycat products.