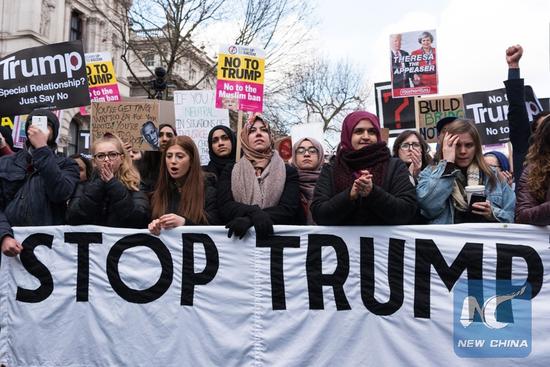 File Photo: Thousands of demonstrators protest against Donald Trump travel ban on Muslim's travelling to the United States in central London on Feb. 4, 2017. (Xinhua/Ray Tang)
U.S. Supreme Court on Tuesday ruled President Donald Trump's travel ban on several Muslim-majority countries is lawful, which Trump hailed as "a tremendous victory" and "moment of profound vindication."
In a 5-4 opinion, the court found that Trump's executive order on the immigration restriction fell "squarely within the scope of Presidential authority under the INA (the Immigration and Nationality Act)".
"The [order] is expressly premised on legitimate purposes: preventing entry of nationals who cannot be adequately vetted and inducing other nations to improve their practices," Chief Justice John Roberts wrote in the majority opinion.
"The text says nothing about religion." Roberts wrote, rejecting claims that the ban was motivated by religious hostility.
"The president lawfully exercised that discretion based on his findings - following a worldwide, multi-agency review - that entry of the covered aliens would be detrimental to the national interest," Roberts wrote.
Justices Anthony Kennedy, Clarence Thomas, Samuel Alito and Neil Gorsuch joined Roberts in the majority, with liberal Justices Stephen Breyer, Elena Kagan, Sonia Sotomayor and Ruth Bader Ginsburg dissenting.
"Today's Supreme Court ruling is a tremendous victory for the American People and the Constitution. The Supreme Court has upheld the clear authority of the President to defend the national security of the United States." Trump said in a White House statement.
"This ruling is also a moment of profound vindication following months of hysterical commentary from the media and Democratic politicians who refuse to do what it takes to secure our border and our country." the president said.
However, the American Civil Liberties Union (ACLU) on Tuesday slammed the Supreme Court ruling, saying that history will judge the decision harshly.
"This is not the first time the Court has been wrong, or has allowed official racism and xenophobia to continue rather than standing up to it. History has its eyes on us - and will judge today's decision harshly," the ACLU tweeted.
The case has been central to the White House immigration policy, presenting a key test of Trump's campaign promise to restrict immigration and secure U.S. borders.
Trump has signed three versions of executive orders on immigration restrictions targeting several Muslim-majority countries. The initial order, signed one week after he took office in January last year, led to days of nationwide protests and chaos at airports across the country.
The third version of Trump's travel ban barred nearly all travelers from five mainly Muslim countries, namely Iran, Libya, Somalia, Syria and Yemen. It also adds a ban on travelers from the Democratic People's Republic of Korea (DPRK) and government officials from Venezuela.
The lower federal courts had ruled that all three versions either violate federal law or are unconstitutional, excluding restrictions on travelers from the DPRK and government officials from Venezuela.