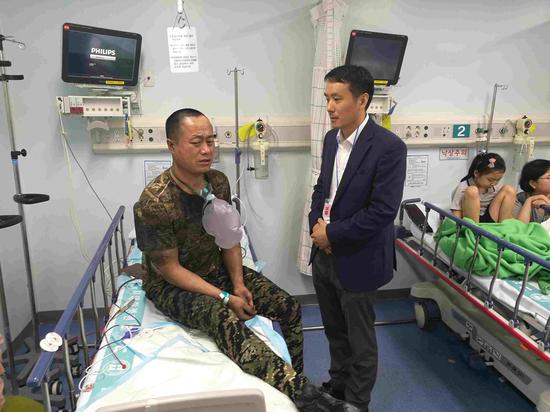 A Chinese Embassy staff member visits injured Chinese nationals in the hospital after a fire broke out at a construction site in central South Korea's city of Sejong, June 26, 2018. /CCTV Photo
A huge fire engulfed an underground parking garage of an apartment building under construction in central South Korea on Tuesday, leaving at least three dead and 37 others injured, Yonhap reported.
The blaze started at 1:10 p.m. local time at the Treeshade apartment construction site in the central administrative city of Sejong, sending flames and black smoke rising into the sky.
Construction firm officials estimated the number of workers at the site at the time at 169.
About 49 firetrucks and 200 firefighters battled the blaze. But firefighters had difficulty battling the flames since there was no fire extinguishing system in the building under construction.
One Chinese national was among the dead, and one were severely wounded, while 13 other Chinese suffered minor injuries.
All the injured Chinese were hospitalized, and three of them were released from hospitals after medical treatment.
The Chinese Embassy has activated emergency response procedures to deal with the incident and asked South Korea to spare no efforts to treat the injured.