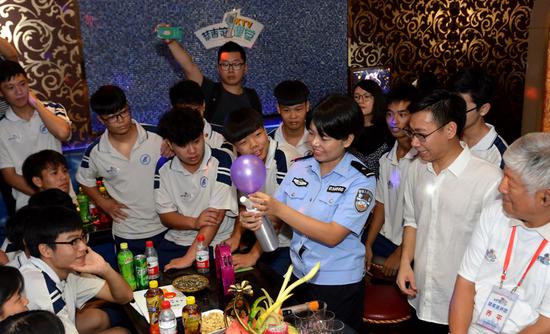 A police officer teaches teenagers a lesson on keeping away from drugs at a karaoke bar in Guangzhou, Guangdong Province, on Tuesday. She advised the teens to raise their awareness of drugs-even anesthetics such as nitrous oxide, or laughing gas-which is being abused as a drug and may be found in balloons at entertainment venues. (QIAN WENPAN/FOR CHINA DAILY)
Chinese judicial authorities vowed to continue to fight drug-related crimes and strictly punish drug traffickers and manufacturers to keep society safe.
The Supreme People's Court and the Supreme People's Procuratorate both said on Tuesday-which was International Day Against Drug Abuse and Illicit Trafficking-that drug problems are still serious in China, although the number of related offenses have declined in the past two years.
The decline does not mean drug-related crimes are no longer a problem, the top court said in a statement, and drug offenders still get heavy punishments.
Last year, 21.9 percent of sentences were from five years in prison to death-7.9 percentage points higher than sentences in other criminal cases, the top court said.
"We've always strictly punished drug criminals, especially drug traffickers and those who make or sell huge amounts of drugs," said Ma Yan, deputy chief judge of the No 5 Criminal Division of the court.
"We'll increase the fight against repeat offenders and people who lure or force others to take drugs," he said. "As for recidivists, drug users who pose great danger to society and major traffickers, we won't hesitate to hand down the death penalty."
In March, for example, Gong Jinhong, a drug addict from Guangdong province, was executed for intentional homicide. He killed his two children in June 2015 after taking methamphetamine and was sentenced to death by the Qingyuan Intermediate People's Court.
As courts strengthen drug control, prosecutors nationwide also play a role in supervising drug-related cases.
"We protested 2,950 court rulings from January 2013 to April this year because we found the drug-related cases had been decided based on incorrect laws," said Huang Weiping, a senior prosecutor at the top procuratorate.
For example, Guo Xiru, a Guangdong native who was pronounced innocent because of insufficient evidence, was sentenced to 15 years in prison in October for his crimes after prosecutors's protested the verdict, contending that the application of the law by the Guangzhou Intermediate People's Court was wrong, according to a statement of the top procuratorate.
"We'll maintain high pressure against drug crimes and strictly penalize those who used weapons in the commission of their drug-related crimes," Huang added.
On Monday, President Xi Jinping called for following a path with Chinese characteristics to contain drug-related problems and win the war on drugs in the new era. He said drug control is important to national security, and the fight cannot pause so long as illegal drugs exist.