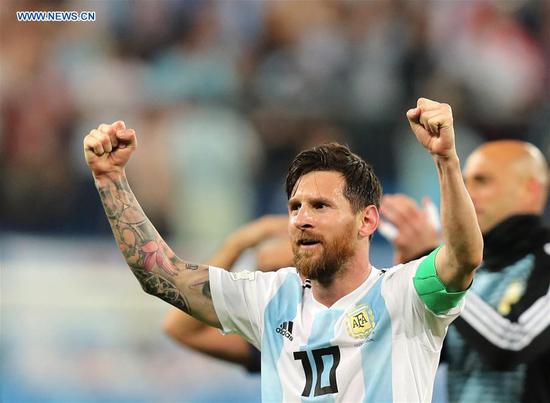 Lionel Messi of Argentina celebrates victory after the 2018 FIFA World Cup Group D match between Nigeria and Argentina in Saint Petersburg, Russia, June 26, 2018. Argentina won 2-1 and advanced to the round of 16. (Xinhua/Yang Lei)
Special: WorldCup2018
Lionel Messi's goal in the first half and Marcos Rojo's late goal helped Argentina progress to the World Cup knockout stage after a 2-1 victory against Nigeria at Saint Petersburg Stadium on Tuesday.
As Croatia advanced as group winner after defeating Iceland 2-1 in the other Group D match, the Albiceleste finished second to secure a round of 16 clash against France.
With only one point after first two matches, Argentina were on the brink of an early exit from the World Cup before Tuesday's match. Argentina coach Jorge Sampaoli made wholesale changes to their starting 11 comparing with the game against Croatia.
In the 14th minute, Argentines broke the deadlock, as Messi slammed a long-range passing from midfielder Ever Banega into the far corner of the net.
The Argentina captain almost doubled the lead when Angel Di Maria won a free kick in the attacking half for Argentina in the 32nd minute and Messi's left-footed shot hit the post.
Both sides didn't create a lot of chances during the rest of time in the first half.
Just five minutes into the second half, Nigeria were awarded a penalty after Javier Mascherano's foul inside the box.
Surrounded by the harsh catcalls from Argentina supporters, Victor Moses converted the penalty to the center of the net and helped Nigeria level the score.
After Nigeria's equalizer, Argentines launched fierce attacks but failing to find clear-cut chances as their opponents put up a strong defense.
In the 76th minute, Nigeria launched a fast counterattack but Odion Ighalo's shot narrowly missed the target. After the shot, Nigeria players appealed for a handball of Rojo inside the box but the referee vetoed the penalty after watching VAR replays.
After 11 minutes, Argentines' efforts finally paid off. Assisted by Gabriel Mercado, Rojo made a shot from the center of the box and scored.
The late goal from the Manchester United star helped his team narrowly edge out the African country and keep Argentina's World Cup dream alive.
A total of 64,468 spectators attended Tuesday's match at the 65,000-seat Saint Petersburg Stadium, among which Argentina fans outnumbered Nigeria supporters by a large margin.
FIFA statistics showed that Argentina made 8 attempts at the goal throughout the match, while Nigeria made 9. Ball possession was 65 percent for Argentina and 35 percent for Nigeria.
The match at Saint Petersburg Stadium marked the fifth World Cup clash between Argentina and Nigeria and the Albiceleste won all the five.