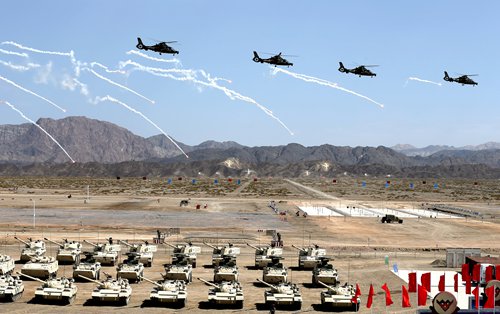 Helicopters and tanks perform at the opening ceremony of the International Army Games 2018 in Korla, Xinjiang Uyghur Autonomous Region on Sunday. (Photo: Cui Meng)
Special: Celebration for China's Army Day
Battle contests showcase weaponry to potential customers
Hosted by the People's Liberation Army, the International Army Games (IAG) 2018 began in Korla, Northwest China's Xinjiang Uyghur Autonomous Region on Sunday, with military observers saying the games will help China promote its military industrial products to worldwide security partners.
Within the framework of the Russian International Army Games 2018, the PLA Army will host three games from Monday to August 11: the Suvorov attack for infantry fighting vehicle crews, clear sky for air defense missile operators and safe route for engineering units, explained PLA Army spokesman Senior Colonel Liao Yanling.
Some 358 participants from China, Belarus, Egypt, Iran, Kazakhstan, Pakistan, Russia, Uzbekistan, Venezuela and Zimbabwe are in Korla, Liao said. 
"Armenia and India will send observer groups," he said,
The PLA Army sent tanks, rocket launchers and Z-9 and WZ-10 armed helicopters to perform live weapon firing during the opening ceremony. 
The seaborne assault contest, hosted by the PLA Navy, kicked off Sunday in the city of Quanzhou in East China's Fujian Province, Xinhua reported.
Initiated by the Russian Ministry of Defense, the games started Saturday, with 28 competitions in total this year. The games are organized by China, Russia, Belarus, Azerbaijan, Kazakhstan, Armenia and Iran.
The main session of the competition kicked off at Russia's Alabino training ground in the Moscow region Saturday.
This year China sent a massive team to Russia for the competition including H-6k bombers, J-10A fighter jets and Type 96B main battle tanks, and Russian agency TASS reported the Chinese team won the tank biathlon - a competition between tank crews - and ranked first in its group on the opening day in Russia.
In the seaborne assault in Quanzhou, participants will use Chinese equipment, with training provided by the organization committee, Chen said. 
In Korla, Russia uses its own BMP-2 infantry fighting vehicles in the Suvorov attack. All foreign participants will use China-made Type 86As. In the clear sky and safe route contests, Russia will also use China-made weapons.
"The IAG is not only a game, but also a marketing and advertising show for military industrial products," Song Zhongping, a military expert and TV commentator, told the Global Times on Sunday. 
Most participants are clients for Chinese and Russian weapons including Iran, Venezuela, Zimbabwe and Pakistan. The games provide significant chances for these countries' military forces to use Chinese or Russian-made equipment and weapons in combat-like military competition, Song said.
China has an edge in amphibious equipment, according to a retired PLA officer and military expert who asked for anonymity. 
"In a seaborne assault, all participants use China-made equipment as China is the only major power to invest great efforts in practicing massive landing operations for solving the Taiwan question when necessary," the officer told the Global Times on Sunday.