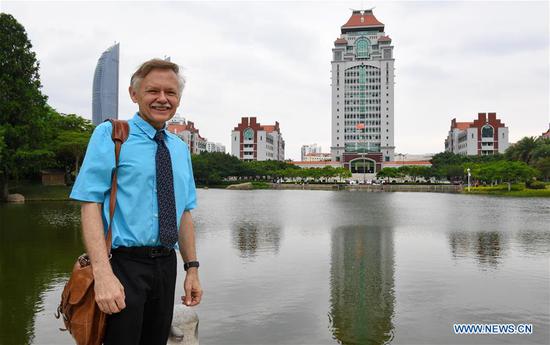 William Brown poses for a photo at Xiamen University in Xiamen, southeast China's Fujian Province, June 14, 2018. (Xinhua/Zhang Guojun)
Speaking mandarin fluently and drinking Chinese oolong tea daily, 62-year-old William Brown, an American MBA professor at Xiamen University, says he has a foreign face but a Chinese heart.
Living in the city of Xiamen, southeast China's Fujian Province, for 30 years, Brown has witnessed the hardships and development of not just Xiamen but the entire country.
Xiamen was one of China's five earliest special economic zones. With heavy investment from Taiwan and Hong Kong, as well as foreign countries, it has been at the forefront of China's reform and opening up.
Brown's love of Xiamen started in the 1970s when he was in the U.S. Air Force stationed in Taiwan. "I was curious of what the people were like in Chinese mainland. Xiamen is right across the Taiwan Strait."
"When I got back to the United States and met my wife, we talked about China the very first time we met. We found we were both so interested in the Chinese mainland. So I like to say China was our matchmaker!" said Brown.
In 1988, Brown sold his company and moved to Xiamen with his wife and two sons.
"I chose Xiamen University because it was the only university that allowed foreigners to bring their families with them to learn Chinese at that time," Brown said.
The trip to Xiamen was difficult, he remembered. After a long flight from Los Angeles to Hong Kong, his family took an 18-hour overnight boat trip up the coast to Xiamen.
There were a lot of inconveniences in daily life. Electricity was sometimes out for days, and so was the tap water. There were only three bus routes in the whole city. "The floor of the buses was made of wood, and the bus exhaust fumes came into the bus," he said.
Despite all that, Brown foresaw the country was changing rapidly and working on all-around improvements from economics to social regulations.
When Brown became the first foreigner to obtain permanent residence in Fujian Province in 1992, many people were amazed and asked him why, since many Chinese were eager to go abroad at that time.