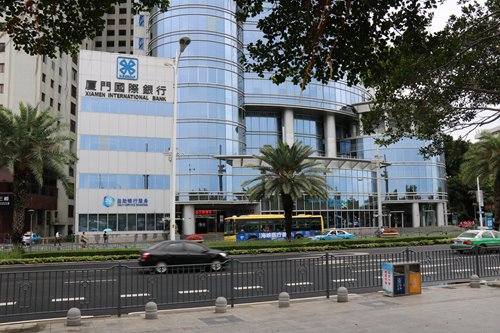 A view of Xiamen International Bank's headquarters in Xiamen, East China's Fujian Province. (Photo: Zhang Hongpei/GT)
The 40th anniversary of China's reform and opening-up is a good time to reflect on the country's economic development. Over the past 40 years, China's southeastern coastal cities have been at the forefront of the nation's economic drive. In particular, the Xiamen Special Economic Zone (SEZ) has witnessed rapid economic development and played the role of a "test ground" after it established the first joint venture bank in China - Xiamen International Bank.
Special Economic Zones (SEZs) have played a significant role in the reform and opening-up of China's financial sector over the past four decades.
In particular, the Xiamen SEZ in East China's Fujian Province has been taking the lead among the country's five SEZs, by setting up China's first joint venture (JV) bank - Xiamen International Bank (XIB) - in 1985.
That same year, the five SEZs, namely Shenzhen, Zhuhai and Shantou, all in South China's Guangdong Province, South China's Hainan Island as well as Xiamen, became open to foreign banks.
Coincidentally established in that same year when economic reform, opening-up and financial system innovation were called on, XIB was positioned as the "test ground" for China's financial reform, said Huang Daqing, vice president of XIB.
Xiamen, a notable hometown for overseas Chinese, soon began attracting investment from Chinese residing in Southeast Asia, China's Hong Kong and the island of Taiwan during the initial period of reform and opening-up, Huang told the Global Times in an exclusive interview on Friday.
"But only a few domestic banks were able to provide specialized services to these enterprises at that time, while the branches of foreign banks in China were even fewer," Huang recalled.
"As more and more foreign capital began gradually entering the Chinese mainland, they badly needed a bank to provide support to financial services similar to what they enjoyed in their home markets," noted Huang, adding that State-owned banks took the majority of stakes in the domestic financial sector at that time.
"No market-driven and competition mechanism existed," he said.
Bringing in more overseas funds to boost Xiamen's economic development was also a key target for the local government, since the city's GDP was small at the start of reform and opening-up, he added.
In 2017, Xiamen's GDP registered 435.12 billion yuan ($66.8 billion), up 7.6 percent year-on-year, data from the city's statistics bureau showed in January. By contrast, the figure in 1980 was just 640 million yuan, according to media reports.
In the financial services sector, the Xiamen SEZ had 44 banking institutions, 153 securities companies and 38 insurance companies by the end of 2017. Meanwhile, the sector's value reached 49.1 billion yuan in 2017, accounting for 11.3 percent of Xiamen's total GDP, domestic industry site financialnews.com.cn reported.
Back in 1980, Xiamen had merely five banks and one insurance company, with the value of the financial sector standing at 9.1 million yuan, comprising 1.4 percent of that year's GDP, according to the report.
Keeping up with the development of Xiamen's SEZ, the city's financial sector has also experienced robust growth, from small to big, from single to diverse and from low-level to high-level, Li Weiping, head of the Xiamen branch of the People's Bank of China (PBOC), was quoted as saying in the report. The PBOC is the country's central bank.