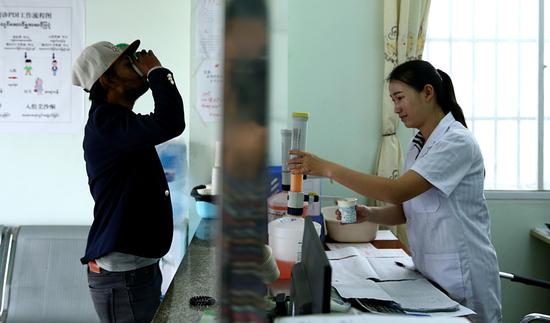 A drug user from Myanmar receives methadone treatment in Ruili, Yunnan Province. (ZOU HONG/CHINA DAILY)
The country has a population of more than 54 million and 230,000 have HIV/AIDS.
In recent years, Li said that an average of more than 300 HIV/AIDS cases have been detected annually in Ruili, and nearly 80 percent involve Myanmar nationals who live there or who frequently cross the border for work and trade.
To curb the disease, action must be taken regardless of the patients' nationalities, Li said.
In 2012, the local health authority began offering free HIV/AIDS intervention, treatment and follow-up services, particularly for those from Myanmar vulnerable to the disease such as intravenous drug users, long-haul cross-border truck drivers and illegal sex workers.
Initially, the free treatment was only for the spouses of local Chinese, such as Yi Kenken, but was later extended to Myanmar nationals in Ruili who could present residence and employment permits.
Close to the opium producing areas of the Golden Triangle countries of Myanmar, Thailand and Laos, and major drug trafficking routes, Ruili's initial HIV cases in the late 1980s were among intravenous drug users.
As China stepped up the fight against drugs, scaling up methadone maintenance treatment and needle exchanges among intravenous drug users, HIV/AIDS cases related to drug injections dropped substantially in Ruili.
For HIV prevention, intravenous drug users from Myanmar in Ruili were also covered as Chinese citizens under a program largely subsidized by the government.
At the methadone outlet at the Better Clinic, Suo Mei, 26, has arrived every morning for the past three years to take 70 milliliters of the pink liquid under the supervision of doctors.
At a cost of 3 yuan a day, this has helped prevent Suo, who is from Myanmar, from injecting himself with drugs, and from potential HIV infection. After one visit, Suo, wearing jeans and a white baseball cap, rode his motorcycle to his workplace, a jade trade center several blocks from the clinic.
He now lives with his wife in Ruili. "Life is OK and under control," he said.
However, several kilometers away at the border waiting area, a long-haul truck driver from Myanmar in his early 20s was overwhelmed after testing positive for HIV, and realizing he now faces huge uncertainty.
He turned pale, sweat glistening on his forehead.
"Please don't let my mom know. She's outside waiting for me," he told a nurse at the Better Clinic who helps with information and counseling for those who test positive.
Long-haul truck drivers from Myanmar entering China undergo HIV tests under an anti-AIDS partnership between the two countries.
Those diagnosed with HIV/AIDS are referred for treatment said the nurse, adding that most became infected after paying for sex.
Apart from the screening, the clinic provides them with safe sex education and HIV prevention information, she said.
Li Zhoulin, a researcher at the Ruili Center for Disease Control and Prevention, said, "In many cases, the interventions and treatment for those at high risk, or the patients, work as a preventive measure for other people, too."
The measures taken in Ruili have been extended to other border towns, counties and prefectures in the province, including Longchuan, Mangshi and Xishuangbanna, said Jia Manhong, assistant director of the Yunnan Center for Disease Control and Prevention.
More than 60 km from Ruili, near a methadone treatment outlet in Laying, a town in Longchuan county, low bamboo fences stand along the border between China and Myanmar.
At times when the border patrols are not strictly enforced, Yang Ronghua from Myanmar crosses the fence and walks to the outlet to take his daily methadone medication.
He jokingly describes himself as a "treatment stowaway" and can see his home from the second-floor balcony of the clinic.
"It's convenient for me to take methadone here," said the 37-year-old, who has been on the therapy for four years at the clinic. He previously injected himself with heroin.
In Myanmar, the nearest methadone outlet he can go to is 42 km away.
Cun Daiqi, a doctor at the Laying clinic, said more than 30 people were crossing the border each day from Myanmar for the treatment in China.
He said they cross the border frequently and are covered by the AIDS intervention programs. "That also helps with HIV control on our side."
Throughout Yunnan, consensus has been reached to include local non-Chinese under the general AIDS control efforts, according to Lu Lin, deputy director of the Yunnan Health and Family Planning Commission.
Foreigners account for 10 percent of the 10,000 annually detected new HIV/AIDS cases in Yunnan, he said, citing the provincial epidemic surveillance network.
They are mainly from the neighboring countries of Myanmar, Vietnam and Laos. Some work in Yunnan and some moved to the province after marrying local Chinese.
To curb a disease that knows no national borders, a united frontline against HIV/AIDS has been formed among the countries, Lu said.
"We cooperate in information-sharing, staff training, disease prevention, screening and treatment within the union," he said.
To date, more than 1,300 anti-AIDS workers from the three countries have been trained in Yunnan.