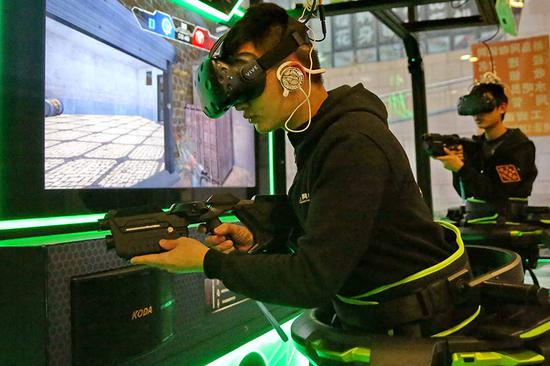 Gamers try out new virtual reality games at an internet café in Qinhuangdao, Hebei province. (Photo for China Daily by Cao Jianxiong)
Emerging sector attracts developers, but growth sparks addiction concerns
As the younger generation's purchasing power increases in China, more and more gamers are splashing their cash online, especially in the emerging mobile gaming sector.
Seeing the new trend, a growing number of developers are already introducing games targeting the younger generation, and many have been reaping the benefits.
Tencent Holdings Ltd's popular mobile role-playing game King of Glory defeated all other iOS apps in China to take the top spot in income generation in May this year, according to mobile analytics company App Annie.
The rise has been fueled primarily by millennials and those born after 1990. A report by Chinese mobile data intelligence firm Jiguang showed that more than two-thirds of the game's players are younger than 29.
Data from Gamma Data Corp showed that King of Glory offers a platform for entertainment and communication, making the smartphone phenomena a worldwide hit. App Annie reported that King of Glory ranked at the top globally in terms of monthly revenue in May on the App Store.
Another report by Gamma Data Corp noted that young female gamers are increasingly becoming a key driving force in China, the world's largest gaming market.
The number of female gamers active in the Chinese market grew 6 percent year-on-year to reach 264 million in 2017, accounting for 45 percent of the total number in the country.
Love and the Producer, a mobile dating game developed by Paper Studio, based in Suzhou, Jiangsu province, has attracted a huge following among Chinese women in recent months. The game allows users to date virtual boyfriends with different professions and personalities.
Gamma Data reported that since its release in December to February this year, the game recorded more than 9.5 million downloads on Apple Inc's iOS App Store and the Android app store in China.
The overall gaming market grew by 23 percent year-on-year to 203.6 billion yuan ($30.7 billion) in China last year, according to a survey by the Game Publishers Association Publications Committee, which is part of the China Audio-video and Digital Publishing Association. It is also backed by Gamma Data Corp and International Data Corporation.
The report noted that mobile gaming accounted for 57 percent of total game sales and reached 116.1 billion yuan in 2017, suggesting mobile gaming will gradually play a more significant role in the overall gaming market.
Currently, China has 583 million gamers. The report found that those born in the 2000s are more active in the games market compared with those born in the 1990s.
However, not all gamers are able to balance their lives and games, and addiction is an increasing problem.
About 18 percent of young people in China play online video games at least four to five hours per day, showing signs of addiction, according to a survey.
According to a recent report in China Youth Daily, research into the online behavior of young people in China showed that 41.3 percent understand that it is unhealthy to spend too much time online, but cannot control themselves.
"Internet addiction is relevant to our lives. Almost one in every five youths has already been or is likely to become addicted to video games," said Zhou Huazhen, a scholar with the Chinese Academy of Social Sciences in charge of the research.
Zhou said she believes the study has produced more extensive and straightforward results in the study of internet addiction in China compared to individual cases reported by the media.
The study showed that about 23.6 percent of young Chinese men played online video games at least four days a week, and 17.7 percent played every day.
The percentage of students who play online games at least four days a week grows with age-16.9 percent for elementary students, 21.3 percent for junior high school students and 31.8 percent for senior high school students.
Accessibility of digital products and a lack of parental supervision are two main factors driving the increase, Zhou said.
Older children need to use the internet more often than younger children, both for study and daily life, as well as to meet their social needs, and teachers and parents usually relax their supervision as children grow up, Zhou said.
Zhang Shuhui, vice-president of CASS, conducted similar research in 2010, also working with Zhou, showing that only 6.7 percent of students spent more than six hours online from Monday to Friday at that time.
Zhang said even with minor differences in parameters between the surveys, the results of the two surveys show increasing internet addiction among Chinese youths.
In the beginning of 2018, addiction to video games was recognized by the World Health Organization as a mental health disorder.