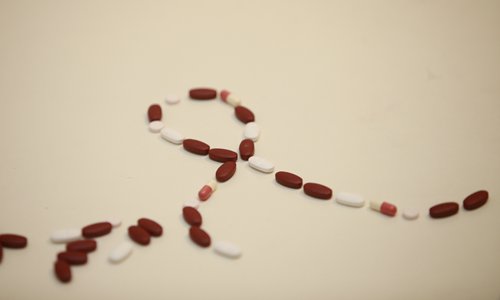 (Photo: Li Hao/GT)
○ The combination of TCM and Western medicines to treat AIDS is gaining popularity among Chinese patients and doctors
○ Though its efficacy has not yet been clinically proven, TCM can still help alleviate the suffering and side effects of HAART
Health experts in China are researching an effective combination of traditional Chinese medicine (TCM) and Western medicine.
The use of TCM in treating HIV carriers and AIDS patients can add extra medical value while also doing some personal good for patients, said Wang Jian, vice director of the Traditional Chinese Medicine Center for AIDS Prevention and Treatment at the China Academy of Chinese Medical Sciences.
"Western medicine is to cure certain symptoms, which focuses on anti-virus, while TCM is to cure the person who has the illness. TCM can strengthen a patient's immune system to counter the virus. It can protect the patients' internal organs and ease side effects caused by Western medicines," Wang told the Global Times.
According to media reports, China currently has over 720,000 citizens who are either HIV-positive or suffering from full-blown AIDS.
In February, the Chinese governmental issued a five-year action plan for domestic HIV/AIDS prevention and treatment. According to the plan, 90 percent of those infected will be able to receive treatment by 2020. The plan also promotes the use of TCM in AIDS treatment.
Currently, the most useful and widely applied method worldwide in dealing with the AIDS is "highly active antiretroviral therapy" (HAART), which uses a combination of three or more anti-virus medicines together.
Wang revealed that a key mission of China's five-year plan is to combine TCM and Western medicine in HIV/AIDS treatment.
"In many places, doctors of traditional Chinese medicine and Western medicine are now working together in hospitals treating AIDS," he said.
But to what extent TCM has effect on HIV/AIDS is questionable and even dubious. As some charlatans have been touting TCM therapy in order to cheat ignorant or desperate patients, the future development and progress of this new remedy remains up in the air.
Pushing forward
Wang, a renowned TCM doctor based in Beijing, has been actively promoting the use of TCM in AIDS treatment for over two decades. He has noticed an increase in the number of Chinese living with HIV/AIDS requesting traditional Chinese medicine.
"In the mid-1990s, the death rate of AIDS patients dwindled due to HARRT, but the therapy also brought new problems, including possible toxic side effects and drug-resistance. Now more Chinese patients resort to TCM because they hope it can alleviate side effects or even slow down the progress of the illness," he said.
According to Wang, patients who do not meet the requirements to use HARRT, or those having opportunistic infections or whose immune systems are too weak, are more suitable for TCM treatment. The torturous side effects of HARRT are also a big reason why many are turning to TCM.
"HIV carriers can wholly depend on TCM. But for AIDS patients, they need to use both TCM and Western medicine together," he advised.
While traditional Chinese medicine is often criticized as lacking any clinical evidence, Wang said that TCM treatment has in fact achieved some clinical successes.
In a research that Wang participated in, Aikeqing capsules (for spleen-kidney yang deficiency syndrome) or Aifukang capsules (for heat-toxin stagnation syndrome) are prescribed to HIV patients using HARRT. Aikeqing and Aifukang consist of TCM components including aconite, ginger and licorice.
The 72-week study showed that, among 536 cases, the TCM treatment group generally had a much lower drug resistance rate and higher virology inhibition rate than these who had not taken any TCM.
Wang added that HIV/AIDS patients can be categorized into seven statuses which require different TCM treatment methods. The essence of these treatments is to "improve people's physical constitution."
The Xinhua News Agency reported that 19 provinces and regions in China, including Henan, Yunnan, Anhui and Guangxi, are currently piloting projects using TCM in AIDS treatment. Over 30,000 local HIV/AIDS patients have received such treatment.