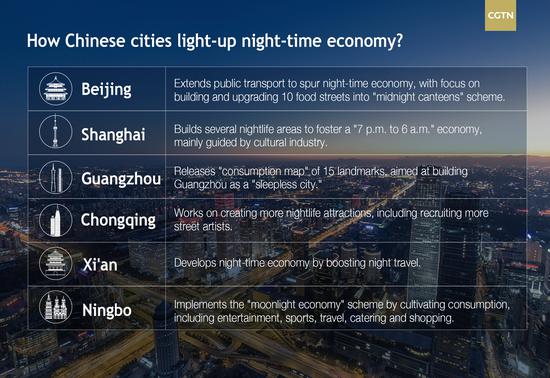 In the 1970s, economists first connected economic activity with night lights when the U.S. Department of Defense released satellite images of worldwide lights.
Adam Storeygard, an economist at Tufts University, said, "When the satellite lights data were declassified in the 1970s, researchers published papers showing pictures of lights and how they correspond to human settlement and economic activity."
Night-time economy is an economic concept derived from the United Kingdom in the 1970s to improve the empty nester at night in urban centers. The concept refers to business activities between 6 p.m. and 6 a.m. in the service sector, including especially shopping, travel, catering, entertainment, and sports.
Increasingly recognized as an economic growth driver, today night-time economy is under the spotlight of China's development.
Night-time consumption shows giant potential in China's consumption-driven economy
China's GDP grew by 6.3 percent in the first half of this year, and consumption accounted for 60 percent, which continued to be the first driving force for the country's economic growth. Among them, night-time consumption shows giant potential, according to the National Bureau of Statistics.
"Night economy has become a new engine to enhance the city's vitality and promote China's development," said Wang Xiaoguang, deputy director of the economics department in National Academy of Governance.
Wang said Chinese cities have developed rapidly in the past few decades, but some urban centers lacked vitality due to factors as high housing prices, long commuting time and lack of accessible and convenient networks.
"It is necessary to reform the supply side, roll out policies and improve the service quality," said Wang.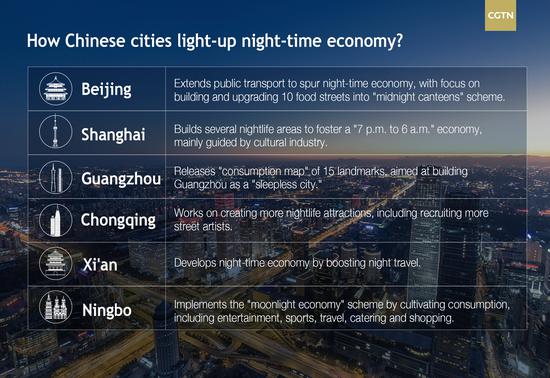 How Chinese cities light-up the night-time economy?
Many cities across China have rolled out diverse plans to stimulate the night-time economy to drive growth amid downward pressure on the broader economy.
Last month, Beijing announced its plan to build and upgrade 10 food streets into "midnight canteens" for night owls in the next three years. According to its government work report earlier this year, Beijing will encourage malls, supermarkets and convenience stores to stay open later.
In an effort to spur its "night-time economy," the Chinese capital will extend the running time of part of its public transport on Fridays and Saturdays from May to October every year.
According to Shanghai's plan, the metropolis will also draw up the development plan of the Nightlife Agglomeration Area and add more parking spaces, taxi waiting areas and late-night bus services.
While introducing more diverse programs like operas, musicals and museum tours, Shanghai will take a more open view of late night bookstores, cinemas, music clubs and live houses.
Shanghai has nominated more than 10 "nightlife CEOs" who possess rich management experience in businesses operating at night, as a way to support the city's night economy coordination mechanism.
The map of night-time consumption, published by the Guangzhou Municipal Commerce Bureau, lays out 15 night-time consumption landmarks including some of the city's well-known shopping malls and creative art zones.
The city will continue to improve infrastructure and public services, as well as hold symbolic festive and night events in the night consumption clusters, according to the bureau.
Guangzhou, capital of southern China's Guangdong Province, rolled out a map highlighting commercial clusters for night-time consumption on Tuesday, as the city aims to spur its "night-time economy."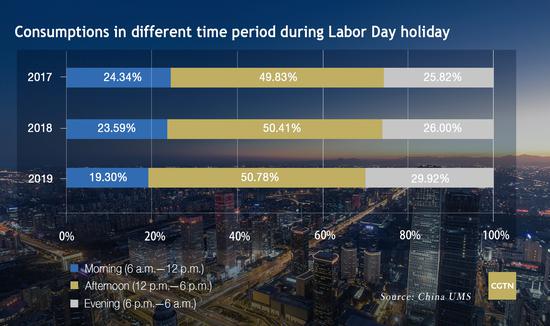 Night-time consumption is growing
Recently, China's night-time consumption has been growing. Since June, the market for night-time food delivery services has significantly expanded and seen a growing legion of takeaway delivery drivers, according to data from Eleme, Alibaba's flagship takeaway-ordering app.
China's night catering consumption jumped 47 percent in 2018 from a year earlier, two percent higher than the daytime growth, according to a report released by the China Tourism Academy and Meituan, a Yelp-like Chinese online city guide.
During this year's four-day Labor Day holiday, the total consumption volume at night accounted for 29.92 percent of the whole day, according to the China Tourism Academy and China UnionPay Merchant Services Co., Ltd. Restaurant consumption in mall-clustered Wangfujing, Sanlitun and Qingnianlu in Beijing surged 51.3 percent during the night-time hours compared with the same period last year.
Forty and thirty-year-olds were the major forces driving the night-time consumption during the Labor Day holiday, in terms of the amount of money spent and the number of transactions made.