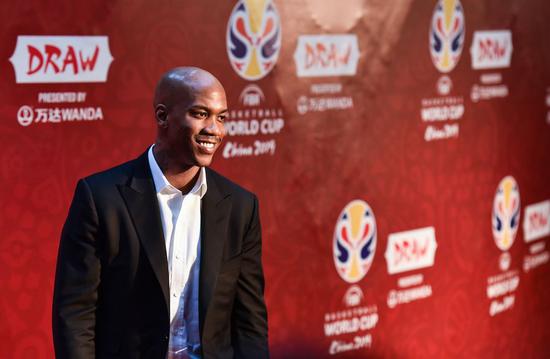 File photo: Stephon Marbury reacts before the draw ceremony of 2019 FIBA Basketball World Cup in Shenzhen, south China's Guangdong Province, March 16, 2019. (Xinhua/Mao Siqian)
Former NBA star Stephon Marbury, who calls Beijing his home, comes back to his hometown of New York, together with some Chinese children to make them better understand American basketball.
Stephon Marbury, the former NBA player who calls Beijing his home, brought a team of young Chinese basketball lovers to New York on Tuesday to kick off their journey of learning and experiencing the sport in the United States.
The 42-year-old returned to his birthplace Tuesday afternoon and met with the President of Brooklyn Borough Eric Adams, who gave the team a warm welcome at the Borough Hall.
The homecoming Brooklynite, who has been living in the Chinese capital of Beijing for nearly 10 years, said he's always happy to be back, especially this time with 22 Chinese kids from nine to 13 years old attending the "Stronger Me: A Stephon Marbury NYC Basketball Camp."
The former NBA star, who gained even greater fame in China for playing in the CBA league there, noted that the goal of this camp is for the children to further understand American basketball and to learn the cultural differences involved in playing basketball abroad.
During the following two weeks, the camp will host a series of events and activities in the Big Apple, which include getting trained by local professional coaches, having friendly games with Amateur Athletic Union teams, playing streetball with local kids, and touring Central Park and Coney Island.
Marbury believes the children will benefit greatly.
"They're gonna have a fun-filled two weeks. I'm sure that they're going to be tired and worn down. And they'll definitely have some stories to tell," said the two-time NBA All-Star.
The summer camp is co-hosted by the Brooklyn-based Asian Community United Society and Brooklyn Basketball USA.
Before embarking on his trip to China, Marbury played in the NBA from 1996 to 2009 for the New Jersey Nets, the Phoenix Suns, the New York Knicks and the Boston Celtics.
In his CBA career from 2010-18, Marbury led the Beijing Ducks to three CBA titles in 2012, 2014 and 2015, winning millions of fans in China. Earlier this year, he inked a contract with CBA team the Beijing Aolong Fly Dragon as their head coach.