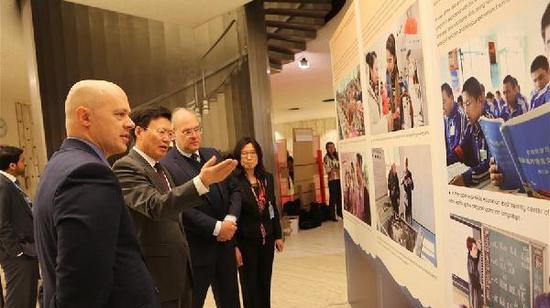 A photo exhibition titled "The Development and Progress of Human Rights in the Xinjiang Uygur Autonomous Region of China" was held at the Palace of Nations in Geneva, Switzerland.
The exhibition was jointly presented by the Permanent Mission of China to the UN in Geneva and the China Society for Human Rights Studies (CSHRS) during the 40th session of the UN Human Rights Council (UNHRC).
More than 80 photos were displayed, featuring social stability, economic development, unity among different ethnic groups, and cultural prosperity of Xinjiang. It is the first time for China to hold a Xinjiang-themed exhibition at the UNHRC.
"This exhibition aims to present a real, beautiful and prosperous Xinjiang to the world," said Yu Jianhua, Ambassador Extraordinary and Plenipotentiary and Permanent Representative of China to the UN Office at Geneva and other international organizations in Switzerland.
"China has attached great importance to the protection of human rights, including the rights of ethnic minorities," Yu said.
"Taking Xinjiang as an example, this photo exhibition introduces to the world the real situation, of China's human rights cause," said Deputy Secretary General of China Society for Human Rights Studies Wang Linxia.
"China also explored a path to develop human rights that suits Chinese national conditions, featuring socialism with Chinese characteristics. It has made important contributions to international human rights," she added.