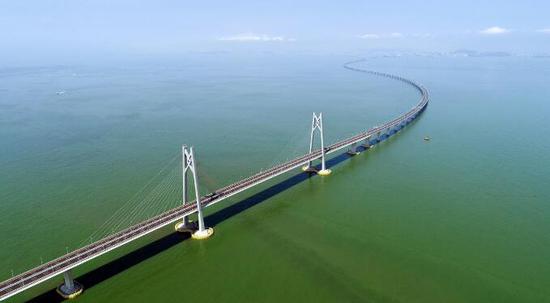 The Hong Kong-Zhuhai-Macao Bridge. (Photo/Xinhua)
Guangdong governor urges province to utilize major historical opportunities
Guangdong province in South China has vowed to deepen reform and opening-up in economic development, and to further expand cooperation with Hong Kong and Macao, to speed up the development of the Guangdong-Hong Kong-Macao Greater Bay Area in the new year.
"Reform and opening-up has been the key measure for Guangdong's fast and steady economic growth in previous decades, and Guangdong should open up even wider to the outside world in the years to come," the provincial government said in a statement released after an economic work conference held in late December.
"Reform and opening-up has greatly revitalized and stimulated Guangdong's economic growth," the statement said.
Ma Xingrui, governor of Guangdong, has urged the relevant cities and departments in the province to utilize the major historical opportunities brought by the Guangdong-Hong Kong-Macao Greater Bay Area.
He called on them to deepen reforms and opening-up to join hands with their counterparts in Hong Kong and Macao, in order to further improve the Bay Area's international competitiveness in advanced manufacturing through scientific and technological innovation.
"Meanwhile, Guangdong will further promote the integration and development of industry, finance, science and technology among the cities in the Bay Area," Ma said earlier at a meeting with local entrepreneurs in Guangzhou, the provincial capital.
He said he expects that cooperation with the Hong Kong and Macao special administrative regions will help Guangdong to become a new international innovation center and a major transport hub, by further improving the infrastructural links with the SARs in the years ahead.
Liang Haiming, chairman of Guangzhou-based China Silk Road iValley Research Institute, said after decades of development, Guangdong, Hong Kong and Macao should expand exchanges and cooperation in the area of innovative science and technology.
"Guangdong will be able to import innovative overseas concepts and technologies via Hong Kong and Macao, and in turn sell their own innovative products to global markets, via platforms in Hong Kong and Macao," Liang told China Daily.
Meanwhile, Liang suggested cities in Guangdong should adhere to a harmonious and coordinated development pattern, in order to complement each other's advantages in the Bay Area and to avoid development overlaps.
"Guangdong cities that are expecting to become international financial centers can first choose to become a green bond exchange center or carbon emission trading center, areas that are neglected by many other leading global financial cities," he said.
"Actually, not all the cities can become world financial centers," he added.
Guangdong, long considered a window of China's reform and opening-up, has led economic development on the mainland for three decades. The province is expected to achieve an annual GDP growth rate of about 7 percent in 2018.
In 2017, Guangdong's GDP came to more than 8.99 trillion yuan ($1.31 trillion), compared with 5.8 trillion yuan in 2012.
According to statistics from Guangdong Customs, the province's foreign trade volume came to 6.53 trillion yuan in the first 11 months of 2018, up 7 percent year-on-year.
Guangdong reported a trade surplus of 1.2 trillion yuan between January and November, as its export volume reached 3.87 trillion yuan, up 2.6 percent year-on-year. Its imports hit 2.66 trillion yuan in the period, up 14.1 percent year-on-year.
The province attracted actual foreign investment of 137.82 billion yuan in the 11 months ending November, up 6 percent year-on-year, and approved a total of 32,823 foreign-funded projects in the same period, up 159.9 percent year-on-year.
In addition to Hong Kong and Macao, the Greater Bay Area includes the Shenzhen and Zhuhai special economic zones, and the cities of Guangzhou, Foshan, Dongguan, Zhongshan, Huizhou, Jiangmen and Zhaoqing, all in Guangdong.