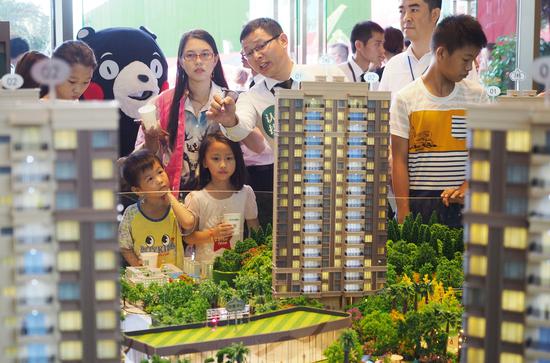 A property model attracts visitors during an industry expo in Dongguan, Guangdong province. (Photo by An Dong/For China Daily)
Families that have two children will enjoy preferential policies for housing loans in Xianning, Hubei province, in Central China, under one of the local government's new measures to encourage new births.
The city's health and family planning commission published a document on Wednesday announcing several measures regarding baby care and home purchases to help families with two children.
In what is believed to be a first for China, families with two children will get the same interest rate for their second home purchase as that for the first home under the new measures. Usually, families have to pay higher interest when they take out a loan to buy a second home in the city and other places in China.
The new measures also encourage employers to give longer maternity and paternity leave for two-child parents.
While the current maternity leave for new mothers in Hubei is 128 days, Xianning's government extends the maternity leave to six months for two-child mothers, while two-child fathers have one month's paternity leave-15 days longer than the provincial level. The document also stipulates that workplaces should pay the same salaries to them during maternity and paternity leaves.
In addition, the city is pushing employers to allow flexible work schedules for pregnant women and mothers who have children 3 years old and younger. Employers are encouraged to provide babysitting areas and facilities at the workplace when they have the ability to do so.
The city will also provide prenatal genetic testing for women who have a second child in the city, and the women will get 300 yuan ($44) in subsidies for medical checkups during the pregnancy.
According to the city's health commission, the number of new babies in 2016 in Xianning was 45,630, and 21,874 of them, or 48 percent, were the second children in their families. Last year, the city had 43,134 newborns-fewer than the previous year, although second children accounted for 52 percent of the total, which was higher than in 2016, when China's universal second-child policy took effect.
Nationwide, 17.58 million babies were born last year, with the number of second children accounting for more than 50 percent of the total, according to data provided by the national health authority.
However, responses on social media after the new Xianning policy was released indicate that not many found the policy to be attractive.
A netizen from Xianning who uses the name "hey-Yeworuo" on Sina Weibo, a social network similar to Twitter, said the housing price in the city is only 4,000 to 5,000 yuan a square meter, which is very low, so the preferential interest rate policy is not necessary.
Huang Pan, 30, a bank clerk who has one child in Wuhan, the capital of Hubei, said she believed that such policies are not a decisive factor for having a second child.
"Whether to have the second child mainly depends on families' financial abilities and marital relations," she said. "So far, I still don't want to have the second kid because I don't think we can afford another one."