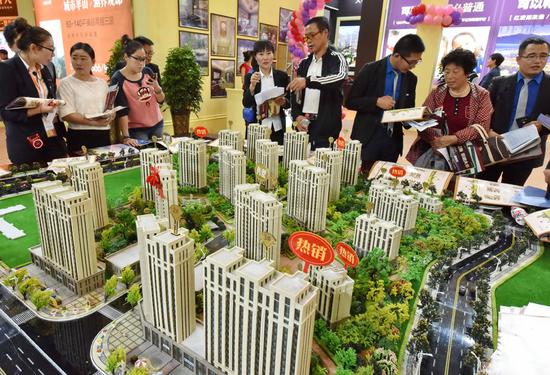 Potential homebuyers at a property expo held in Dalian, Liaoning province.(Photo for China Daily/Wang Xizeng)
As Chinese mainland cities maintain their tightening measures on the housing market, home prices in first-tier cities saw little change in June, and the growth momentum in other major cities and third-tier cities has also been checked, the National Bureau of Statistics (NBS) said.
Compared to last year, the four first-tier cities of Beijing, Shanghai, Guangzhou and Shenzhen reported no change in new home prices in June, and the prices of preowned homes in the four cities rose 0.1 percent, according to NBS figures published on Tuesday.
Compared to the previous month, new home prices in the four cities increased 0.6 percent, up 0.3 percentage points from May; specifically, Beijing and Shanghai's new home prices remained flat, while Guangzhou and Shenzhen rose 1.9 percent and 0.3 percent, respectively. Their used home prices stayed unchanged from May.
Among the 70 cities whose home prices are tracked by the NBS, 31 second-tier cities, mostly provincial capitals, rose 6.3 percent and 4.6 percent in new home prices and used home prices respectively from a year ago, widening the growth rates by 0.9 percentage points and 0.2 percentage points from May; the 35 third-tier cities saw their new home prices increase 6 percent and their used home prices rise 4.3 percent, keeping the same growth rate from last month.
Liu Jianwei, a senior statistician at the NBS, credited the stabilized market performance to local governments' unswerving measures to contain local property markets as well as their alignment with the central government's macro policies for the healthy development of the nation's property market.
"The upward growth in Guangzhou and most second-tier cities has a lot to do with their policies for attracting talents as well as the lottery system introduced in some cities' new home purchases," said Zhang Dawei, chief analyst at Centaline Property Agency Ltd.
According to Zhang, more than 40 cities including Nanjing, Wuhan, Chengdu, Xi'an and Changsha announced a variety of favorable policies to attract talents such as offering local residence registration, residential subsidies, and granting office space rental for free, and these policies may partly offset previous purchase limits in these cities.
"In addition, 10 cities, including Shanghai, Nanjing, Changsha, Chengdu, Hangzhou, Xi'an, Wuhan, Shenzhen, Qingdao and Fuzhou, introduced a lottery system in new home purchases, which has given homebuyers an impression that housing supplies are short," said Zhang.
Only two out the 15 hot spot cities reported declines in their new home prices from a month ago, showing that prices are resilient in the home market.
"The period between April and June is the traditional peak season for home transactions, and entering July the market may end the upward trend, especially as a new round of tightening policies start to bite," Zhang said.
About 92 percent of the 70 cities saw their new home prices and pre-owned home prices increase, the highest since October 2016.