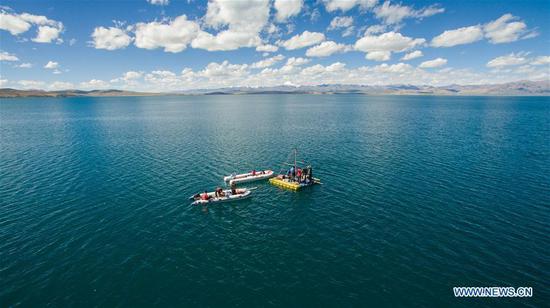 Scientific expedition team members conduct research on a lake in Ngari Prefecture, southwest China's Tibet Autonomous Region, Sept. 4, 2017. (Xinhua/Liu Dongjun)
The Qinghai-Tibet Plateau is still one of the cleanest regions on earth, according to a white paper released by the State Council Information Office Wednesday.
"The Qinghai-Tibet Plateau has a low intensity of human activity. The air quality is little impacted, the types of pollutants are few and the density is low, and the content of pollutants is similar to those at the North Pole," said the white paper, titled "Ecological Progress on the Qinghai-Tibet Plateau."
With the promotion of use of green energy, the progress in building ecological towns, and efforts to improve rural environment, the air quality on the Plateau has seen further improvement, it noted.
Of the 96 key cities whose annual density of particles met relevant standards in 2016, 16 were located on the Plateau.
The central and local governments have carried out a number of environmental protection projects for comprehensive improvement of river basins, improvement of urban and rural living conditions, and prevention and control of pollution from factories and mines, according to the white paper.
"As a result, the environmental quality and living conditions on the Qinghai-Tibet Plateau have steadily turned better," it said.