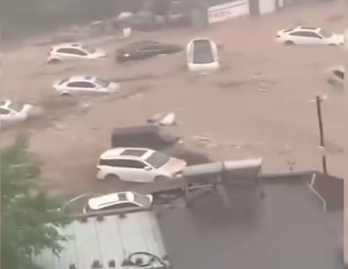 Cars are washed away by flash floods in Mentougou district, Beijing, July, 31. (Photo: screenshot from Weibo)
(ECNS) -- Heavy downpours have caused surged river water and flooded roads in Mentougou District, Beijing, killing two people and sweeping away numerous cars, local authorities said on Monday.
Before this heavy rain, approximately 5,000 people have been urgently evacuated from the mountainous areas of Mentougou, according to data from the Mentougou District Emergency Management Bureau.
According to the Beijing Flood Control Office, there have been several instances of landslides and small-scale flash floods in Mentougou and Fangshan districts.
The water level in Shidu Town, Fangshan district, has also risen significantly. The Dashi River basin and Juma River basin in Fangshan district have experienced floods exceeding standard levels, and there are multiple dangerous situations along the rivers, according to the Publicity Department of the Fangshan District, who called for local residents to stay away from risk areas.
Beijing Hydrological Station renews a red alert, the country's highest weather alert, for flooding at 11 a.m. on Monday.
From 8 p.m. on Saturday to 1 p.m. on Monday, the average rainfall in Beijing reached 176.9 millimeters, while Fangshan district recorded an average of 346.8millimeters and Mentougou district322.1 millimeters, with the highest rainfall recorded at 580.9 millimeters in Mentougou, according to Beijing Meteorological Service.