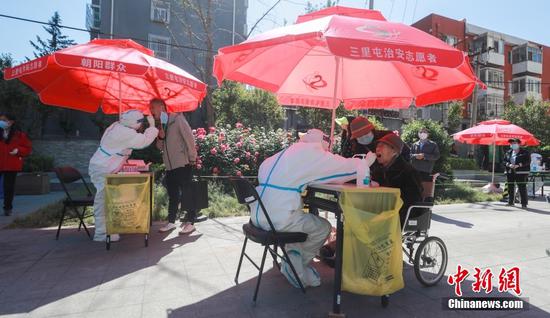 A medical worker takes nucleic acid testing for a citizen in Chaoyang District in Beijing, May 15, 2022. (Photo/China News Service)
Special: Battle Against Novel Coronavirus
(ECNS) -- Beijing reported 29 locally transmitted COVID-19 cases (one was converted from asymptomatic cases) and 22 local asymptomatic cases on Sunday, according to the municipal health commission on Monday.
A total of 17 COVID-19 patients were discharged from hospital on Sunday.
The city has reported a total of 166 cluster infections related to the Heaven Supermarket bar in Chaoyang District from Thursday to 3 p.m. on Sunday, including 145 consumer cases, 19 infections related to these consumers, and two staff members of the bar, said Liu Xiaofeng, deputy head of the Beijing municipal disease prevention and control center, at a press conference held on Sunday.
These cases have covered 14 districts of Beijing and the city's Economic-Technological Development Area, said Liu.