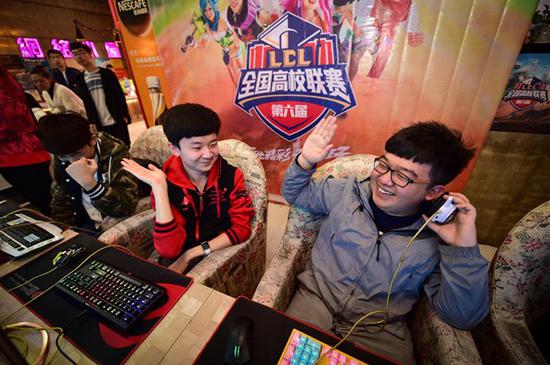 Students play E-sports game in a competition. (Photo/China Daily)
(ECNS) -- China is set to experience a nearly 2-million shortfall in professional gamers over the next five years amid rapid growth of the e-sports industry, according to a Ministry of Human Resources and Social Security report.
Approximately 86 percent of professional gamers earn a salary one to three times higher than the regional average, the report stated.
Zhang Ning, a professional gamer, joined the e-sports sector in 2009 and quickly rose to become a champion player by 2014, when his transfer fee to move to a new club hit 500,000 yuan ($72,000). Now, 10 years into his career, he has quit his job to become the coach of a winning team in international contests.
China has approximately 5,000 professional e-sports teams, where players compete against others as spectators watch, with the total number of people working in the sector having reached 500,000, Worker's Daily reported.
The ministry's report also showed a majority of professional e-sports players have college or secondary school educations while top players could earn an annual salary of one million yuan or more. The best can even endorse products or sign up with agencies to offer live-streaming services.
A few years ago, playing computer games would never have been thought of as a formal job and usually had stigmas attached to it. Now, it has become a popular occupation in China as government authorities have introduced supportive policies. Provinces like Shandong, Zhejiang, Anhui, Hunan and Liaoning have established "e-sports towns" to attract talent.
The Chinese e-sports market is expected to be worth 135 billion yuan by 2020, according to consulting firm iResearch.