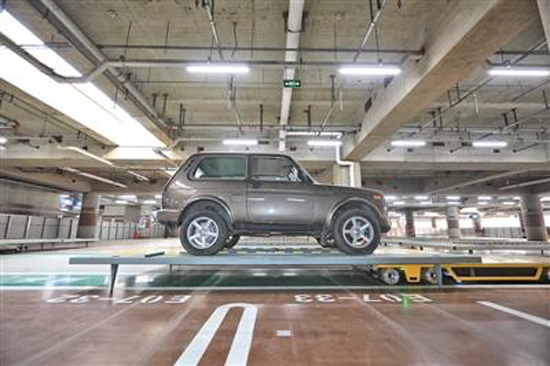 A car is hoisted up into a parking space at the Beijing Capital International Airport. (Photo/Beijing News)
(ECNS) -- An automated parking system will be put into service at the Beijing Capital International Airport by the end of this month. It will be the first airport in China to use such a system, the Beijing News reported.
It will allow a car to be hoisted up into a parking space in just one minute and a driver can pick up a car simply by scanning a QR code or inputting the car's plate number.
Eight robots will serve 132 parking spaces, with each able to lift up to 3.5 tons and work for six hours from full charge, according to Ba Gen, the head engineer in the airport's IT department.
The fully intelligent system is also able to choose an optimized path to park a car, carry out emergency responses, and reduce pollution, he said.
Sensors can help avoid obstacles and adjust the operation speed to prevent collisions. In addition, drivers can feel more assured about the safety of valuables left inside their cars as the parking space is enclosed.
The automatic parking system will also be used at Beijing Daxing International Airport, which will go into operation before Sept. 30. There, two robots will be able to serve 148 parking spaces.