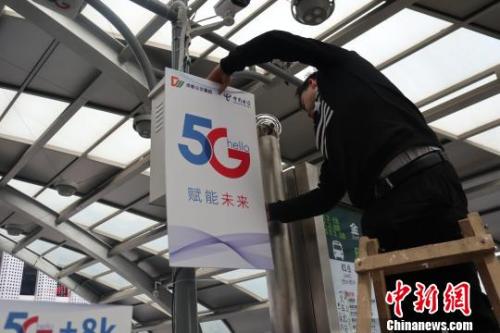 (File photo/China News Service)
Special: 70th birthday of PRChina
(ECNS) -- Artificial intelligence and 5G technology will lead to revolutionary changes in people's work and life in a new era of intelligent interconnection, said a new report by the Research Institute of Journalism and Communication at the Chinese Academy of Social Sciences.
The report on new media released in Beijing on Tuesday said the media landscape and public discourse will be reshaped by apps for social networking, live-streaming and short video. People will increasingly find that their lives are changed by application of AI and gain a better sense of happiness.
The commercial use of the fifth-generation of mobile internet — which promises much faster data download and upload speeds, wider coverage, and more stable connections — will mean restructuring in the production, sharing and communication of information.
Despite a slowdown in 2018, China's live-streaming sector, with 648 million short video viewers, will continue to expand for several years ahead as Internet giants are expected to encourage more content in the form of video, an ever-growing trend on the Internet. Video logging will become a battlefield for competition among Internet giants in the next half of the year.
The report also says there will be more diverse ways to turn fans of online celebrity into customers, the monetization process known as the "fan economy" in China.
China's third, fourth and fifth-tier cities are now becoming the focus of Internet companies to develop their business, according to the report.