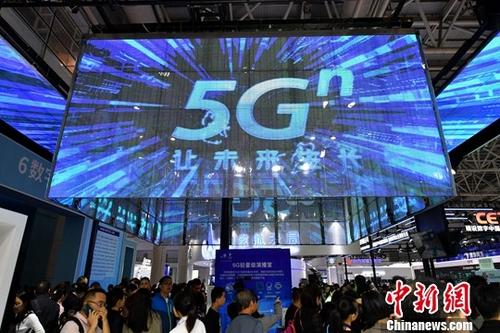 (File photo/China News Service)
Special: 70th birthday of PRChina
(ECNS) -- By 2025, the 5G network will cover 40 percent of the Chinese population, or 430 million people, accounting for one-third of all 5G users worldwide, according to a newly released report.
China's mobile communication is now entering a stage of "four generations under one roof" -- the coexistence of 2G, 3G, 4G and fledging 5G.
The report jointly released by a research arm of People.cn and the Social Sciences Academic Press said China has the world's largest 4G network.
The total number of subscribers to the mobile Internet for both 3G and 4G has reached 1.31 billion, accounting for 83.4 percent of mobile phone users.
The number of Chinese 4G network users rose to 1.17 billion by the end of December 2018, a net yearly increase of 169 million.
The country's mobile networks continue vigorous development, with the number of online users hitting 829 million by the end of last year. China's Internet availability rate grew by 3.8 percentage points in 2018 to 59.6 percent.
The cumulative internet traffic reached 71.11 billion gigabytes in 2018, up 189.1 percent from the end of 2017.