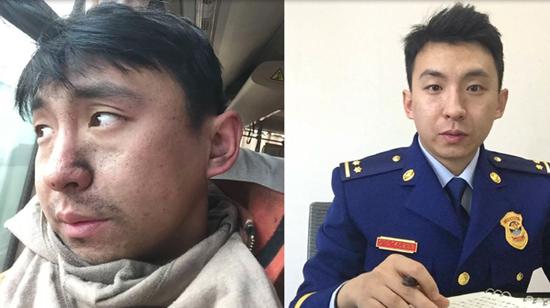 This combo photo shows different faces of Jin Xin, a publicity officer in Inner Mongolia Autonomous Region. The left photo shows his face has got smoky in a firefighting mission and the right one shows he is in uniform. (Photo/Screenshot on CNSTV)
(ECNS) -- Jin Xin, who has become an online celebrity since posting a "smoky makeup" selfie on his WeChat moment, called for people to pay more attention to his colleagues and the job rather than his personal affairs.
Jin is a publicity officer for the fire department of Hailar city, Inner Mongolia Autonomous Region. While participating in a mission to extinguish a grassland fire along the China-Russia border, his face got smoky, and the photo he shared on the social media app WeChat was widely distributed, earning him the name of "coolest smoky makeup."
He said on Tuesday that by posting the photo he intended to mark the moment and show that he was on the fire line.
In response to some netizens' questions about whether he had a girlfriend, he said he hopes that more people will understand that firefighters often risk their lives to ensure the safety of others.