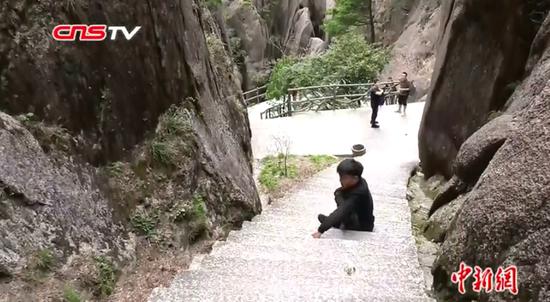 Disabled Li Chuangye climbs Mount Huangshan with his hands in Anhui Province. (Photo/Screenshot on CNSTV)
(ECNS) -- Li Chuangye, a disabled student from the Minsheng School of Henan University, climbed 6.5 kilometers using only his hands to reach a scenic area in Anhui Province, a 20-hour endeavor he said was an "act of love."
Li has suffered from polio since childhood and cannot walk upright.
Li said he and his girlfriend had planned to visit the Yupinglou scenic area of Mount Huangshan and watch the sunrise together. But his girlfriend had to work, so he made the trip on his own.
"With this, I want to prove I'm serious to her, and I really hope I can give her a happy life in the future," said Li, who called his girlfriend after reaching the summit and sang to her.
Li said he also brought a flower from the foot of the mountain and made a promise at the top.
Moved by Li, many tourists joined him in singing the song "Because of Love" and wished him happiness.
During his summer vacation in 2016, Li climbed China's Five Great Mountains – Mt. Taishan in Shandong Province, Mt. Huangshan in Anhui Province, Mt. Huashan in Shaanxi Province, Mt. Hengshan in Hunan Province, Mt. Hengshan in Shanxi Province, and Mt. Songshan in Henan Province.
He said he wore out 16 pairs of gloves, six pairs of shoes, and 12 pairs of trousers over two months.
"I think I'm capable of accomplishing things like normal people. If I persevere and don't give up, I will be able to reach the top of the mountain, and I will be successful at doing anything," said Li.
"For me, climbing mountains is not just to appreciate the great landscapes. I want to convey a positive attitude to people similarly crippled, so that I can live my life without regrets," he said.