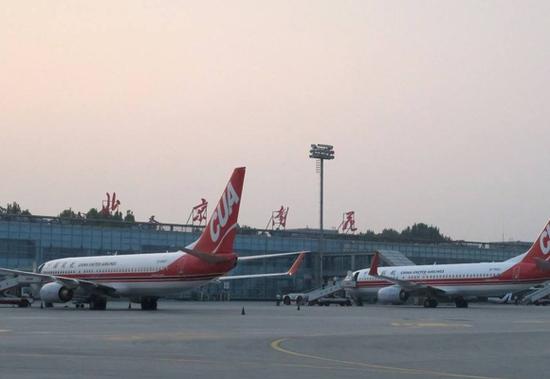 Planes stop at the Beijing Nanyuan Airport. (File photo)
(ECNS) - Beijing Nanyuan Airport, the oldest airport in China, will end public services on September 30 when China United Airlines moves to the newly built Beijing Daxing International Airport.
Located in Fengtai District, Beijing Nanyuan is a public and military airport that has long served as the capital's secondary airport. It opened in 1907 and was the main hub of China United Airlines.
The airport has witnessed important developments in Chinese history. Located nearby is a courtyard established in 1906, with two stone lion statues out front. Now known as Yuxiang Hostel, it was the former barracks of the Beiyang Army, the Imperial Chinese Army established by the Qing Dynasty government in the late 19th century. In 1921 it became the headquarters of Feng Yuxiang, a warlord during the Republic of China period.
The first aviation school in China was also established at Nanyuan in September 1913.
The airport offered civil aviation services from 1984 at the early stage of China's reform and opening up. China United Airlines, founded in December 1986, began under military operation but underwent restructuring in 2005. It became a state-owned budget airliner in 2014.